Appendix 2: About the New Zealand Transport Agency
New Zealand Transport Agency: Information and planning for maintaining and renewing the state highway network.
The New Zealand Transport Agency (NZTA) began operating on 1 August 2008, combining the functions of Land Transport New Zealand and Transit New Zealand.
NZTA's structure includes six business groups:
the Strategy and Performance Group – which works to promote government themes, objectives and strategies, and supports NZTA Board's to prepare the National Land Transport Programme;
the Regional Partnerships and Planning Group – which works in partnership with local government on regional planning and programming;
the Highways and Network Operations Group – which is responsible for building, maintaining, and operating the state highway network;
the Access and Use Group – which provides services such as driver licences and
motor vehicle registration, and also regulates transport operators;
the Organisational Support Group – which prepares corporate strategies and policies to support strategy and organisational performance; and
the People and Capability Group – which ensures that NZTA delivers on its goals through its people.
Figure 8 sets out NZTA's organisational structure.
Figure 8
The New Zealand Transport Agency's organisational structure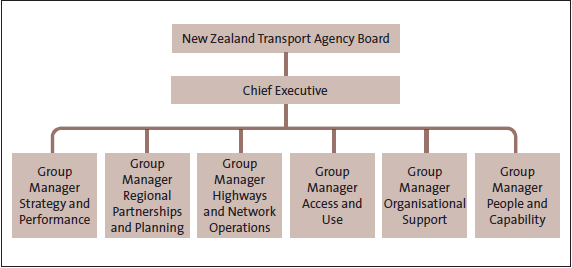 page top