Award for Auditor-General's outstanding contribution
27 November 2015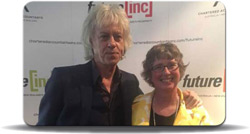 The Controller and Auditor-General, Lyn Provost, last night received an award for her outstanding contribution to public administration in New Zealand from Chartered Accountants Australia and New Zealand (CA ANZ).
CA ANZ's Leadership in Government Awards have been recognising outstanding achievements by Australian public service leaders since 2009. This is the inaugural award for New Zealand, and the Office is very proud that Lyn has been recognised for her lifetime of exceptional public sector leadership.
As Auditor-General, Lyn has worked to strengthen public sector performance and accountability in New Zealand and overseas, particularly in the Pacific. She has advocated for financial and public management to ensure that the public sector can deliver quality services to citizens now and in the future.
Before her appointment in 2009 as New Zealand's first woman Auditor-General, Lyn was New Zealand Police's first woman and first civilian Deputy Commissioner. Lyn has also served in senior roles with the State Services Commission and Archives New Zealand, where she was also Acting Chief Executive.
Lyn received her award from global activist Sir Bob Geldof.