Responses to our recommendations about monitoring water used for irrigation
19 May 2022: We asked the Ministry for the Environment, Northland Regional Council, Hawke's Bay Regional Council, Otago Regional Council, Marlborough District Council, Bay of Plenty Regional Council, and Environment Canterbury Regional Council for an update on their response to recommendations we made in 2018 about the monitoring of water used for irrigation.
We requested these updates because we want to provide public transparency on progress with addressing our recommendations.
I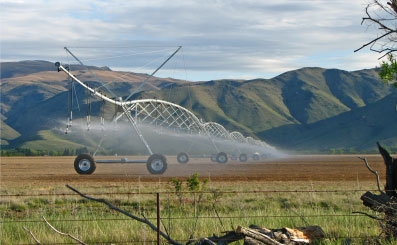 n 2018, our report Monitoring how water is used for irrigation looked at how freshwater used for irrigation is tracked and measured at five regional councils and one unitary council. This included how well water meter installation was managed, the quality of data collected from water meters, how the data was used, and whether this was leading to positive changes in the way water is used.
In 2018, we found that the six councils were starting to use water meter information to educate people and organisations holding water permits (permit holders) about how they can use freshwater more efficiently, and to show how much water is used. However, at that time, the quality of data collected was variable, there were sometimes issues with data that was collected manually, and in our view, there was scope for more co-ordination between councils.
We recommended that the Ministry:
review the part of the Resource Management (Measurement and Reporting of Water Takes) Regulations 2010 that allows for manual data collection and annual data provision, and work with councils that have oversight of water metering, to ensure that people and organisations holding water permits regularly submit accurate data using automated processes; and
evaluate the benefits of water metering to understand how it has changed the way people and organisations holding water permits have used what they have been allocated.
We recommended that councils continue to work with people and organisations holding water permits and intermediary data service providers to improve the timeliness and completeness of water-use data received.
We recommended that the Ministry, councils that manage freshwater resources, and other interested groups work together to use water-use data to encourage compliance with water permits and the limits they impose, to enable effective and efficient use of freshwater resources.
We also identified two other improvement opportunities for councils to consider:
As the quality of data from water meters improves, all councils have a role in ensuring they set realistic and needs-based water allocations using all relevant and current information.
Councils need to share and promote more information with the public about how much freshwater is used.
Read what the Ministry and the six councils have each said about their progress with implementing those recommendations:
We have not audited the information in the updates that entities have provided. However, as with all our work, we might choose to carry out a formal follow-up audit on our recommendations, or any aspect of our 2018 audit, in the future.
We will also seek further updates from the Ministry and the six councils where we consider it relevant to do so.
Photo acknowledgement: mychillybin © Michi Krauss