Snapshot: Auditing the Government's financial statements
Observations from our central government audits: 2021/22.
Revenue and expenditure has gone up

Government expenditure: $17.2 billion higher than 2020/21.
Government revenue: $12.3 billion higher than 2020/21.
Net losses from the valuation of some financial assets and liabilities of $6.7 billion (2020/21: gains of $21 billion).
Net worth is up
Based on a population of 5 million, each of us saw our "share" of the Government's net worth increase by about $3,500 to $34,900 (2020/21: increase of about $8,200).
Table describing the image above
1 July 2021
30 June 2022
Assets
$438.6 billion
$501.8 billion
Assets increased by
$63.2 billion during the year.
Liabilities
$281.4 billion
$327.5 billion
Liabilities increased
by $46.1 billion.
Net worth
$157.2 billion
$174.3 billion
By the end of the year, net worth
had increased by 17.1 billion.
Who's included in the Government's financial statements?
The Government's financial statements consolidate the financial information of 2656 public organisations, including 2585 Crown entities (such as schools and Crown research institutes), 37 government departments, and 12 State-owned enterprises (such as New Zealand Post).
Assets increased significantly in value

Government assets increased by $63.2 billion during 2021/22.
Physical assets (housing, highways, and land) increased by $29 billion in value.

These physical assets account for nearly half the value of all assets ($249 billion of $502 billion).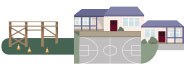 The Government acquired $11.8 billion of new assets – mostly improvements to schools, hospitals, and the state highway network.
The value of shares dropped by $2 billion. This was mainly due to market conditions.
Liabilities increased significantly
Government liabilities increased by $46.1 billion during 2021/22.

The increase was mostly due to increased borrowing of $42 billion to $204 billion ($18 billion of new bonds to fund government operations and $8.7 billion of lending by the Reserve Bank to help manage retail interest rates).

Retirement liabilities decreased due to changes to the underlying assumptions used in the calculations. Higher interest rates lower the value of these liabilities.
Many district health boards and schools have still not calculated how much they need to pay their staff for money owed under the Holidays Act 2003.

The amount ACC estimates it might need to pay in the future for injuries decreased by $5 billion because of changes in assumptions and interest rates.