Part 1: About us
Annual report 2020/21.
Our role, vision, and purpose
The Controller and Auditor-General is an important part of the constitutional framework in New Zealand, and his role is described in the Public Audit Act 2001. The Controller and Auditor-General (the Auditor-General) is an Officer of Parliament. The role exists because the ultimate authority for all public sector activity stems from Parliament.
Our vision is of a high-performing and trusted public sector. The Auditor-General's purpose is to give Parliament and New Zealanders an independent view about public sector performance and accountability.
What we do
To remain independent, we report to Parliament and not to Government. Our independence from Government is protected by law through the Public Audit Act 2001.
Most of our work involves carrying out annual audits of public organisations, forming a view on whether financial and non-financial information is a fair reflection of an organisation's performance and recommending where organisations can improve. This core activity takes up 85% of our resources.
The rest of our work is on providing advice that helps Parliament and the public hold public organisations to account for their use of public money. We:
carry out inquiries (which consider the appropriateness of the behaviour of public organisations and their use of resources); and
carry out performance audits (which look at the effectiveness of spending by public organisations) and special studies (which research and publish information that will benefit public sector performance and accountability).
We produce about 30 reports containing this advice each year. We also provide support to select committees when they scrutinise public organisations, and we also monitor spending against parliamentary appropriations (our Controller function).
Every three years we audit councils' long-term plans and their consultation documents about those plans, so that New Zealanders can be fully informed about their council's intentions and what they will cost.
We also make a considerable contribution to the audit community internationally, primarily in the Pacific region.
The outcomes we seek
The ultimate outcome we seek is that Parliament and New Zealanders have trust and confidence in the public sector. To achieve this, the public sector must be high performing and accountable. Relevant and reliable information is critical to holding the public sector to account. Everything we do is directed towards achieving the outcomes in our performance framework.
How we are organised
The Auditor-General, Tumuaki o te Mana Arotake, has 420 staff in two business units – the Office of the Auditor-General (the OAG) and Audit New Zealand – supported by our shared Corporate Services Team.
The OAG is structured into seven main groups, as shown in the diagram below. The diagram also shows Audit New Zealand and the other audit service providers we contract from the private sector to carry out some audits on the Auditor-General's behalf.
The Auditor-General and Deputy Controller and Auditor-General are Officers of Parliament. Together, they are responsible for the two business units and the work of the contracted audit service providers.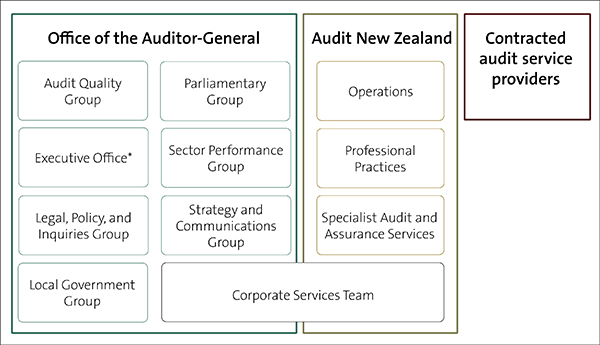 * The Executive Office includes the Controller and Auditor-General, Deputy Controller and Auditor-General, Assistant Controller, and the International team.
How we work together
Each of our business groups has a specific role and the work programme of each group is based on the expertise of the staff. However, much of our work involves contributions from more than one group.
For example, preparing to audit councils' long-term plans has been a three-year process, involving several stages and the development of several products. Without the contribution of a number of groups, this important triennial process could not have been achieved. Some of the tasks carried out are represented in the following diagram.
Our work on 2021-31 long-term plans
To support councils

6

long-term plan bulletins
providing guidance to councils preparing long-term plans

4

presentations
at training sessions organised by Taituarā Local Government Professionals Aotearoa to explain our audit focus

2

facilitated sessions
for chairpersons of council audit and risk committees
 
To carry out our audits

Updated the methodology
for use in the audits

7


guidance documents
on our updated
methodology

55,000+

hours spent auditing
the consultation documents and long-term plans
legal and auditing advice
provided for complex audit matters related to the long-term plans

10


newsletters
to share good practice and provide ongoing advice as audits progressed
 
66 out of 78

councils adopted their long-term plan as at 30 June 2021