Part 1: The operating environment for central government
Central government: Results of the 2019/20 audits.
Rapid change and increased expectations
1.1
Central government's operating environment fundamentally changed in 2019/20. The Government's response to Covid-19 has affected its ability to progress its well-being agenda and has put further demands, pressure, and expectations on public services.
1.2
Parliament authorised substantial funding for the Government to respond to Covid-19. That authorisation has given the Government significant scope to spend public money without requiring Parliament's approval of the detail. As a result, increased accountability and quality reporting are required so that Parliament and the public can understand what is being achieved with the money being spent.
Wellbeing Budget 2019 and the Government's priorities
1.3
The Government published The Wellbeing Budget 2019 (Budget 2019) in May 2019. Budget 2019 signalled a new approach to solving the long-term challenges facing the country and what the public values.
1.4
The Government's main priorities were stated as:
taking mental health seriously;
breaking the cycle on child poverty and domestic violence;
supporting Māori and Pasifika aspirations; and
investing in crucial national infrastructure, such as new hospitals and schools.
1.5
The Government planned to do this while:
managing its finances responsibly; and
addressing long-term economic challenges, such as building a sustainable economy and preparing for the jobs of the future.
1.6
To deliver on these commitments, the Government increased the annual operating allowance in Budget 2019 from $2.4 billion to $3.8 billion. It also added a further $1.7 billion to the multi-year capital allowance for future Budgets. This meant the multi-year capital allowance totalled $14.8 billion in Budget 2019.
The emergence and effects of Covid-19
1.7
The Government's priorities fundamentally shifted in the second half of 2019/20. Many public organisations, businesses, and communities faced deep uncertainty after the emergence of Covid-19.
1.8
The risk of a pandemic in the country and its potential effect on people's health, the economy, and the Government's fiscal situation became the main concerns of 2019/20. The funding approved in Budget 2019 was also not enough for the Government to properly respond to Covid-19.
1.9
In March 2020, Parliament authorised up to $52 billion more spending than the $129.5 billion already authorised for 2019/20. Much of this additional authorisation was for the Covid-19 response.
1.10
The effects of Covid-19 will be long-lasting, with many not yet apparent. Figure 1 illustrates this point, including in forecast figures. Figures 2 and 3 show the effect of Covid-19 on net worth and net operating balance and compares them with other shocks (the global financial crisis and the Canterbury earthquakes) since 2005/06. The Treasury describes the change as follows:
The Government's strong balance sheet position prior to the COVID-19 pandemic has enabled the Government to absorb the fiscal impact from COVID-19 by increasing debt and running down net worth. From the start of the 2019/20 fiscal year, net core Crown debt increases by around $143 billion by 2023/24 to be $201.1 billion. Over the same period, net worth decreases by around $100 billion to be $43.5 billion in 2023/24. As a share of GDP, net core Crown debt continues to rise and reaches 55.3% by 2023/24.1
Figure 1
Net core Crown debt, 2009/10 to 2023/24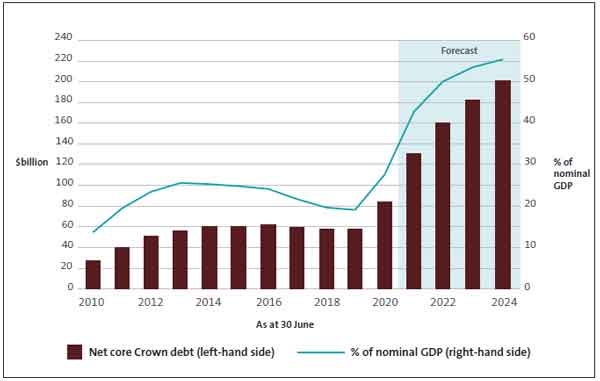 Source: Adapted from the Treasury (2020), Pre-election economic and fiscal update 2020.
Figure 2
Total assets, liabilities, and net worth, 2005/06 to 2019/20
Source: Adapted from the Treasury (2020), Pre-election economic and fiscal update 2020.
Figure 3
Net operating balance, 2005/06 to 2019/20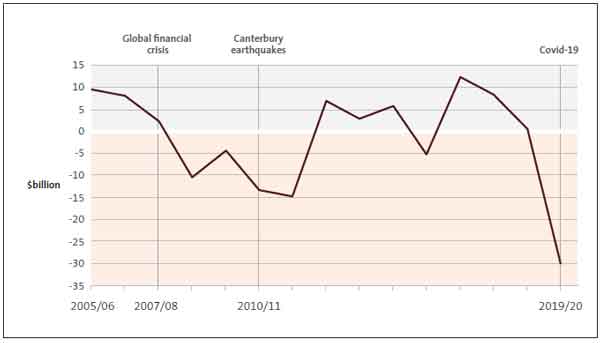 Source: Adapted from the Treasury (2020), Pre-election economic and fiscal update 2020.
1.11
Parliament has given the Government considerable scope to decide how it funds its response to Covid-19.
1.12
The Government's economic priorities shifted to preserving jobs and protecting people's livelihoods. It introduced a new wage subsidy scheme to support workers and other schemes to support the community at large and businesses.
Our work on Covid-related expenditure
1.13
Although much of the newly authorised Covid-related expenditure was announced in 2019/20, it will be incurred in 2020/21 and beyond. Given the significant amount of spending, we will continue to give special attention to Covid-related expenditure.
1.14
How the Covid-19 response will fully affect public organisations is uncertain. We want to understand the continuing effects of the Covid-19 response on public organisations and what this means for the Government's financial statements, control environment, capabilities, and operations.
1.15
A key focus of all our 30 June 2020 audits has been to assess the effects of Covid-19. The effects have been wide-ranging on assets, liabilities, revenues, and expenses. Creating robust financial statements in this context, and the audit of them, has been challenging. We have encouraged public organisations to disclose the effects of Covid-19 in their financial statements and for most public organisations we have emphasised the disclosures in our audit reports.
1.16
In April 2020, we initiated our broader work programme on Covid-19. We carried out a rapid review of the Ministry of Health's management of personal protective equipment (PPE). In times of great uncertainty, people need to have trust and confidence in the systems and arrangements set up to support them. At that time, there was a high level of public interest in, and uncertainty about, PPE supply and distribution.
1.17
To be sufficiently prepared, we recommended that the health and disability sector have a clear understanding of what PPE it has, where it is held, and to whom it should be provided. The sector also needs a way of forecasting demand as well as a scalable system for procuring and distributing stock. This will provide some assurance that the right PPE is getting to the right people, at the right place, and at the right time.
1.18
As with all the work that we do, we wanted our PPE review to help improve the resilience of the systems that support critical public services. We also wanted to help those systems prepare for similar events that could emerge at any time. Although the Ministry of Health's response to our PPE review was positive, we remain concerned about whether the health and disability sector is sufficiently prepared for a second wave of Covid-19 or another pandemic.
1.19
Our current work on Covid-related expenditure also includes:
assessing how the wage subsidy scheme has been managed;
reviewing significant public investment decision-making processes;
considering the approach to the Provincial Growth Fund reset; and
reviewing the central government response to Covid-19.
1.20
We will also continue publishing regular Controller updates and looking at how Covid-related expenditure is monitored. We have prioritised Covid-related work and it is likely that new work on Covid-19 matters will occur over the next few years; some of which is already described in our annual plan.
1.21
The Covid-19 response brought about new ways of working and changes to public organisations' operating environments. Staff moved between public organisations to help with the Covid-19 response, for example, the New Zealand Defence Force supported, and continues to support, managed isolation and quarantine facilities.
1.22
There have been many lessons identified in the way the public sector has responded to Covid-19. The Government's future reform agenda presents an opportunity to learn from these lessons to maintain and build public trust and confidence.
Change continues in central government
1.23
Significant legislative changes and reviews that took place in 2019/20 will affect central government organisations. We continue to take an interest in how proposed changes will be embedded and whether they will deliver the outcomes for the public that Parliament intended.
1.24
Reviews over the last few years in tax, welfare, education, training, and, more recently, the health and disability sector, show that the Government continues to pursue a significant policy and change agenda in an operating environment affected by Covid-19. We will continue to comment on proposals and monitor the effects of all changes made.
1.25
Demands and expectations continue to increase on the public sector and are becoming more complex. In this and any environment, it is important to get the basics right. In Part 4, we discuss the need for improving performance reporting, which is made more important given the level of spending, projected benefits, and costs that have occurred as a result of Covid-19.
Public service reforms
1.26
A significant piece of legislation affecting central government in 2020 was the Public Service Act 2020, enacted in August 2020. The Act repealed and replaced the State Sector Act 1988. The Public Finance Act 1989 was also amended to recognise and enable the new organisational arrangements provided for in the Public Service Act.
1.27
The Public Service Act aims to enable the public service to deliver improved outcomes and better services by creating a modern, agile, and adaptive public service. The Act:
provides a more flexible set of options for how the public service can organise to better respond to specific priorities;
allows public servants to move between public organisations more easily;
clearly establishes the purpose, principles, and values of an apolitical public service, as well as its role in government formation;
supports the Crown in its commitment to, and its relationship with, Māori;
strengthens leadership across the public service and, in particular, provides for system and future-focused leadership; and
shifts the focus from state services to public services, changing the name of the State Services Commission to Te Kawa Mataaho Public Service Commission.
1.28
The Public Service Act calls for a more unified public service that is focused on public organisations working together as stewards of the public's intergenerational well-being.
1.29
We made a submission during the consultation period for this legislation. In our submission to the Governance and Administration Committee, we stressed the need for clarity about accountability arrangements (to Parliament and the public) from the outset. It is important that accountability arrangements help to improve Parliament and the public's trust and confidence in the public sector. Clear accountabilities also support effective reporting on performance.
1.30
Through the Public Service Act, new organisational arrangements can be created to respond to cross-government issues. These arrangements are designed to introduce flexibility and enable greater collaboration on policy issues and common outcomes throughout the public service.
1.31
We support work in the public sector that seeks to strengthen performance, accountability, and the transparency of public organisations.
1.32
We have significant interest in any changes that may be proposed to the public financial management system, and we will continue to seek appropriate opportunities to work with the Treasury and Parliament as work progresses.
---
1: The Treasury (2020), Pre-election economic and fiscal update 2020, Wellington, page 5.