Auditing the Government's financial statements
Central government: Results of the 2019/20 audits.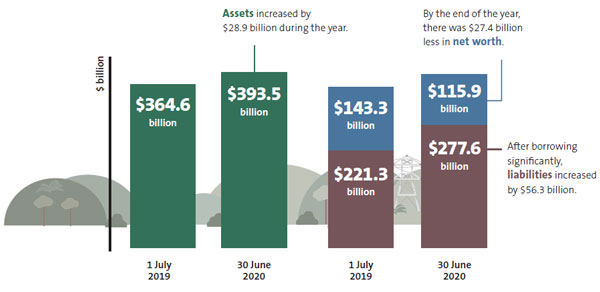 Table describing the image above
1 July 2019
30 June 2020
Assets
$364.6 billion
$393.5 billion
Assets increased by
$28.9 billion during the year.
Liabilities
$221.3 billion
$277.6 billion
After borrowing
significantly,
liabilities increased
by $56.3 billion.
Net worth
$143.3 billion
$115.9 billion
By the end of the year,
there was $27.4 billion
less in net worth.
Net worth
If we look at it for each person...
The drop in total net worth (or "equity") is significant. The Government has borrowed more, largely to cover the many costs of the response to Covid-19.
Based on a population of 5 million, each of us started the year with a "share" of the Government's net worth of about $28,600 – and it has dropped by about $5,400 to $23,200.
Covid-19 has affected the Government's finances more than the Canterbury earthquakes and more than the global financial crisis. See page 10
Challenges in valuing Government assets
| | |
| --- | --- |
| The Government owns a lot of land and buildings. Their value has been difficult to determine since Covid-19. See page 17 | There has been a sizeable increase in ACC's investments and in superannuation funds available to future generations. See page 21 |
| Given Covid-19, it is more difficult to estimate how the economy will perform and how much tax might be collected. See page 14 | Less air travel reduced the value of the Government's investment in Air New Zealand Limited – and reduced the value of its aircraft. See page 24 |
| Working out the value of the electricity generation companies majority-owned by the Government relies on significant assumptions, like what the price of electricity might be and how much will be generated. See page 18 | There is increased uncertainty about how much of the student loan debt will be collected. See page 19 |
| The value of some assets increased, like the state highways that Waka Kotahi (New Zealand Transport Agency) maintains. See page 17 | It's difficult to know what the repayment rate will be for the small business loan scheme set up to support businesses affected by Covid-19. See page 20 |
Liabilities increased, many in response to Covid-19
| | |
| --- | --- |
| The Government's decision to buy back bonds has lowered ongoing borrowing costs but meant a loss of $3.3 billion recorded in the Government's financial statements. See page 15 | The amount ACC estimates it might need to pay in the future for injuries went up. See page 21 |
| Many district health boards and schools have still not calculated how much they need to pay their staff for money owed under the Holidays Act 2003. The uncertainty is considerable, and the delay concerning. See page 23 | The Government borrowed a lot more, and spent it mostly on Covid-related costs, like the wage subsidy scheme. See page 26 |