Part 1: Using information strategically is essential for delivering public services
Reflecting on our work about information.
1.1
Good quality information underpins effective public services. It is important for strong governance, accountability, and transparency in the public sector.
1.2
Good quality information enables public organisations to make informed decisions about how to spend taxpayer and ratepayer funds, how to best manage assets, and how to deliver services. It supports the development of evidence-based policy and regulation, long-term planning, and performance reporting.
1.3
Not having the right information can mean that a public organisation does not make the best use of taxpayer and ratepayer funds nor meet the levels of service the community expects. Not having the information to support decision-making can result in policy and regulation that do not achieve the outcomes sought, poor planning, or a lack of transparency about how public organisations are performing.
1.4
In this report, we use "information" to include data, the information developed from data, and the knowledge derived from both. Data can be defined as raw facts and figures that have no meaning on their own. Data must be interpreted to become information, and information must be interpreted and analysed to become knowledge (see Figure 1).
1.5
We decided to focus on how the public sector uses and manages information as part of our work in 2016/17. The importance of good information when making decisions, managing assets, and enabling service delivery has featured in much of our previous work. Our more recent work on water management and procurement continues to highlight the same important issues.
1.6
This report aims to help public organisations think about using and managing information more strategically – whether they are using that information themselves, working with other public organisations to develop new services, or providing system-level leadership.
1.7
Our work looked at several examples of public organisations using and managing information. It became apparent that several consistent factors need to be present to effectively manage information throughout its life cycle. It is important that public organisations:
Understand what information is needed, who will use it, and what they will use it for. Information comes into an organisation in one of two ways – by being collected or created. Either way, an organisation needs to ensure that it has the right information. Communication is important so that those who collect the information understand the needs of those who use it.
Collect the right information in an efficient way. Information needs to be collected in a way that ensures that it is accurate, timely, and complete. Technology-based tools can enable an efficient process for collecting information.
Manage information in such a way that it is stored and safeguarded appropriately and available and accessible when needed. Fit-for-purpose information management systems play an essential role. Public organisations need to carefully manage their privacy and security settings to ensure that adequate safeguards and protections are in place to protect information. They also need to ensure that information is readily retrievable when it is needed or requested.
Use the knowledge from information to inform decision-making. Good information informs good decision-making. Information is only as reliable as the method of retrieving it. It must be easily accessible to decision-makers and made available in an appropriate form to assist decision-making.
Figure 1
The data-information-knowledge-wisdom pyramid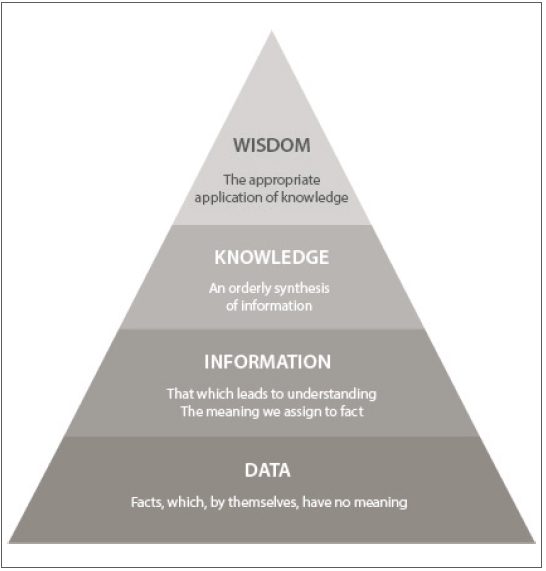 1.8
An important part of information management includes regularly reviewing the information a public organisation holds, to consider whether the information is still useful or whether it might have reached the end of its useful life. Disposal might be through archiving or destruction.
1.9
Although our work on information did not cover disposal, we note the need for public organisations to have a clear and well communicated records management and destruction policy. In doing so, public organisations should be aware of their obligations and responsibilities under the Public Records Act 2005. They can seek guidance and support from Archives New Zealand.
1.10
Throughout the information life cycle, it is important that public organisations continually review and test the quality and accuracy of information, and consider whether their information needs have changed (see Figure 2).
Figure 2
The information life cycle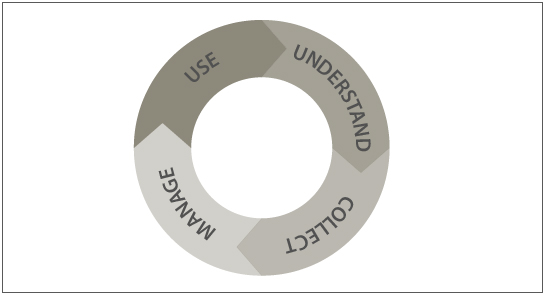 1.11
All phases of this life cycle are important to produce the quality of information a public organisation needs to carry out its business. Public organisations need to know enough about what happens to information in each phase to carefully consider how well they are managing information.
1.12
Our report is structured around the phases of this information life cycle. We hope that our observations can help public organisations ask the right questions to understand and effectively manage the information that supports the decisions they make every day.