Part 4: Changes to the Police's workplace culture
Response of the New Zealand Police to the Commission of Inquiry into Police Conduct: Fourth monitoring report.
4.1
After our third monitoring report, we decided to look for, and describe, changes we noticed in the Police workplace culture since our previous visits to police districts. The workplace culture shapes the professional environment within which the Police manage behaviour and investigate adult sexual assaults.
4.2
In this Part, we set out our impressions of the extent to which changes in the Police's workplace culture support the spirit and intent of the Commission's recommendations. We formed these impressions during our scoping work for the audit and from talking to people on our fieldwork visits. During the audit, we saw documents that supported our impressions.
4.3
We looked at the Police's:
knowledge of how their culture and practices are changing;
consideration of whether the changes to culture and practice are in keeping with the spirit and intent of the Commission's recommendations;
idea of the desired culture they aim to have in place by 2017; and
identification and, where possible, mitigation of the risks to maintaining and continuing to improve the workplace culture and practices.
Summary of our observations
4.4
The pace of change in the Police's workplace culture appears to have accelerated since our third monitoring report. In our view, the changes in culture are in line with the spirit and intent of the Commission's recommendations.
4.5
Policing strategies and change programmes, leadership at multiple levels, increasing diversity in the Police, and recruitment of staff with values aligned to the Police's developing culture have all contributed to this increased pace of change.
4.6
To sustain these positive changes, the Police need to maintain current levels of effort and vigilantly manage risks to the progress made so far.
The emerging workplace culture supports the spirit and intent of the Commission's recommendations
4.7
The Police have implemented policing strategies and change programmes that require and promote more professionalism and mindfulness in the Police's approach. These strategies and change programmes are consistent with the spirit and intent of the Commission's recommendations.
4.8
In our view, the Prevention First and Victim Focus strategies and the Policing Excellence programme have driven changes in "mindset" and an increased understanding of professional standards, accountability, and transparency within the Police. In our view, there is greater empathy for victims and a recognition that dealing with sexual assault victims requires patience, courtesy, and respect, as well as specialist skills and training. These changes are in keeping with the spirit and intent of the Commission's recommendations.
4.9
Staff are expected to support the Prevention First strategy. The Prevention First: National Operating Strategy focuses on targeted policing to reduce offending and victimisation, and to reduce reported crime. It encourages staff to better understand and respond to the drivers of crime by using information ("intelligence") and alternative ways of resolving crime, as well as enforcement. The Police are giving a lot of attention to encouraging and supporting approaches and attitudes in keeping with Prevention First and Victim Focus.
4.10
Staff are also expected to support changes to rostering, tasking, and working arrangements to meet service demands. The Police are seeking to make staff available to carry out targeted work, such as prevention work and investigations. The Police are implementing evidence-based deployment and staff rotation to support prevention work and to allow staff to get experience of a range of roles and different environments. This helps staff to develop and to gain a broader perspective of the Police's values and culture.
4.11
The Police are helping staff understand what these strategies and changes mean for them. In December 2014, the Police provided all staff with a "Policing on a Page" document to further help them understand how the Police's values and culture translate into policing practice.
The Police are identifying the workplace culture they want to work towards
4.12
The Police have carried out some work to describe a "desired future state" for the Police. This work includes identifying some indicators for cultural change to help the Police know how cultural change is progressing.
4.13
The desired characteristics in 2017/18 that the Police have identified include:
all police staff understanding the causes and drivers of crime;
a deployment-ready workforce, ready for emergency and national security response;
high levels of integrity;
all staff having a "victim-focus mentality";
having a safe and inclusive environment for people of all genders, ethnicities, and sexuality; and
an organisation that acknowledges the external factors that bring about organisational change.
4.14
These characteristics are a continuation, or natural extension, of the culture that the Police have already committed to. At the time of our audit, the Police were preparing an updated version of the Policing Excellence programme entitled Policing Excellence, the Future.
4.15
As well as preparing an updated change programme, the Police's leadership have signalled that, in future, the Police will give greater emphasis to:
fully implementing the Commission's recommendations; and
supporting and encouraging women to achieve leadership roles within the Police. Recent appointments within the Police demonstrate a commitment to this.
Wide awareness of cultural and practice changes
Observed cultural changes are positive
4.16
Cultural changes can be difficult to measure because they include both informal and formal practices within an organisation. Because of this, a previous Commissioner of Police told us that walking around, talking to people, and observing people in action were the best ways to understand the organisation's culture and how it was changing. We did this in four police districts.
4.17
Some staff in the four police districts we visited talked about positive changes in the Police's culture. These included:
significantly less drinking of alcohol;
staff now being more held to account for what they do and how;
more open and safer communication;
higher trust in management; and
greater valuing of diversity and the different perspectives this brings.
4.18
We saw these views reflected in the Police workplace surveys. Both male and female constables had high rates of agreement when answering questions about how effectively their supervisor managed them and their team, and modelled good behaviour. Similarly, sergeants and senior sergeants had the highest rates of agreement when asked whether people in their team conducted themselves in keeping with the values expected by the Police.
4.19
However, some staff we spoke with in provincial areas did not agree with all of the changes, and some reported a lack of trust in management's decisions. The staff understood that they needed to comply with the changes, even if they did not agree with them all.
4.20
Figure 6 shows a more positive attitude reflected in the Workplace Survey results from 2011 to 2014. Men were more likely than women to agree that people in their team conduct themselves in keeping with the values expected by the Police. Although the slight dip in the last year could indicate that the Police need to continue focusing on values and desired culture, it is too early to determine whether this dip is part of a reversal of the improving trend.
Figure 6
Police workplace survey question about perceptions of conduct in keeping with police values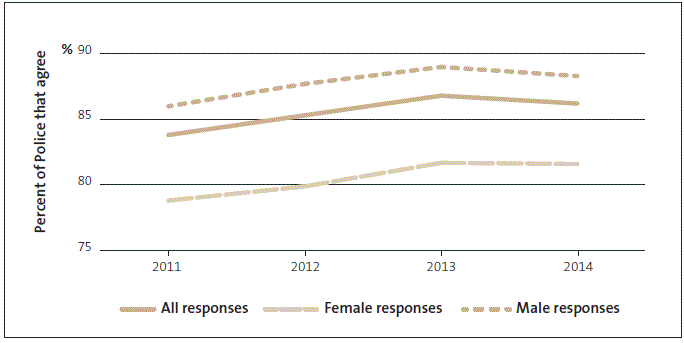 Source: IBM, New Zealand Police Workplace Surveys from 2011, 2012, 2013, and 2014.
4.21
We also observed that the difference between male and female scores is part of a general trend in responses to the cultural change questions of interest to us. Female staff were less likely to agree with the statements in the survey questions we looked at. However, this did not seem to significantly affect engagement scores. As a group, female staff were more likely to show engagement, based on the results of the Police Workplace Survey.
4.22
These observations are consistent with the evidence we obtained during our audit. The Police were paying a lot of attention to:
the importance and practice of leadership at middle-management level; and
having a workforce that is more representative of the communities served by the Police.
4.23
Most of the police leaders we spoke to, at many levels within the organisation, understood their role in promoting and modelling changes. They were aware of the Police's core values and of the need to put them into practice.
4.24
The Police are bringing in new recruits who share police values. The Police aim to maintain the focus of newer recruits on these values, which can be a challenge. Leaders in the Police were working to ensure that sergeants and senior sergeants, who have important supervisory roles, were fully aware of their vital role in training and influencing those they supervise.
4.25
The Police are committed to making their workforce more representative of the communities they serve. The Police have put in place support networks for women and people of minority backgrounds, and targeted recruitment campaigns, to address such challenges as:
a "closed" workforce with few vacancies, because police officers tend to remain in the organisation for most of their working lives;
difficulty in attracting recruits from certain communities; and
retaining female recruits.
Measuring cultural changes
4.26
The Police need to assess progress using a set of measures that show the nature and extent of workplace cultural change they are achieving.
4.27
The Police have identified that the New Zealand Police Citizens' Satisfaction Survey,13 the Police-commissioned Workplace Survey,14 the State Services Commission's Integrity and Conduct Survey,15 and complaints information are potentially useful in measuring cultural change. These sources were part of the body of evidence for some of the practice changes we described in Parts 2 and 3.
An ongoing focus on cultural change is still required
4.28
The Police need to actively and carefully manage some risks to achieving their intended culture. To attain the intended values, diversity, and practices, the Police need to:
reach pockets of "old-style" attitudes where they might persist, such as in some rural police stations (including single-person stations) and in the CIB – acknowledging this risk and that managing it is hard;
consistently apply the Flexible Employment Opportunity policy16 (staff do not understand the policy well, managers are not applying it consistently, and a recent review found that some men had negative views of those using the Flexible Employment Opportunity);
ensure that internal promotion and career development processes are appropriate to deliver on the Police's objectives for a diverse and representative workforce, and have credibility as a merit-based system;
support and develop cohorts of new recruits and emerging leaders; and
look at the professional development and possible career paths for staff who are not police officers (it could be beneficial to have staff with a broader range of capability).
---
13: New Zealand Police Citizens' Satisfaction Survey Final Report for 2014/14 Fiscal Year (July 2013 – June 2014), available at www.police.govt.nz.
14: New Zealand Police Workplace Survey 2014, available at www.police.govt.nz.
15: State Services Commission, Integrity and Conduct Survey 2013. The overview report about the public service is available at www.ssc.govt.nz.
16: The Flexible Employment Opportunity was set up in 2003 to enable staff who left the workforce to return in a part-time capacity. Most often, this has been granted to women returning after parental leave.