Part 3: Supporting appropriate standards of behaviour
Response of the New Zealand Police to the Commission of Inquiry into Police Conduct: Fourth monitoring report.
3.1
In this Part, we set out our assessment of the extent to which Police have improved how they manage staff behaviour since our third monitoring report.
3.2
Any behaviour by police staff, and particularly by police officers, that shows a lack of integrity is a risk to public trust and confidence in the Police. It could also be a risk to the safety of the public and to police staff.
3.3
We expected the Police to have:
clearly set out what appropriate and inappropriate behaviour is;
systems and procedures to support appropriate behaviour and manage inappropriate behaviour when it occurs; and
taken action to manage behaviour using those systems and processes, as necessary.
3.4
We also expected the Police to have identified and, where possible, mitigated the risks to how they manage staff behaviour.
Summary of our findings
3.5
In our view, the Police have largely met the two behaviour-related recommendations that we made in our third monitoring report:
to maintain their focus on ensuring that misconduct is not tolerated; and
to fully implement their national early intervention system (Early Intervention).
3.6
The Police expect a high standard of professional behaviour and have a low tolerance for inappropriate behaviour and poor performance.
3.7
Early Intervention is now in place, with promising results. However, more can be done to increase awareness and use of the system.
3.8
In our view, the Police need to continue to increase staff understanding of the expected standard of behaviour and of the Police's approach to managing inappropriate behavior.
Setting clear standards of behaviour
The Code of Conduct
3.9
The Police expect a high standard of performance from staff, including professional behaviour, and have a low tolerance of inappropriate behaviour and poor performance. The Code of Conduct (the Code) sets out the standards of behaviour expected of staff.8
3.10
Surveys indicate that staff have a relatively good understanding and awareness of the Code, and it is routinely used for performance management, development, and disciplinary purposes.9
3.11
Compared with State services staff overall, police staff have a lot of pride in working for their organisation, are more familiar with their code of conduct, and agree more that their organisation actively promotes and communicates standards of integrity and conduct.
Reporting inappropriate behaviour
3.12
The Code requires police staff to support their colleagues in carrying out their lawful duties and to challenge any "improper behaviour", as appropriate, including reporting it.
3.13
If inappropriate behaviour is not challenged and reported, it could become to be seen as acceptable. The importance of challenging and reporting such behaviour was illustrated by staff from several levels in one district saying to us (and posters in police premises stating):
The standard you walk past is the standard you accept.
3.14
Our impression was that most staff now felt more able to "call" or report inappropriate behaviour. However, they did not always feel assured that management acted on complaints in such a way as to change the behaviour.
3.15
The Police Workplace Survey 2014 (the survey) showed that two-thirds of staff would be confident in raising complaints and that most had not experienced or witnessed cases of harassment, bullying, or discrimination. Figure 2 shows that the numbers of respondents who did not experience or witness these behaviours has increased slightly since 2011.
3.16
The survey also showed that three-quarters of the small proportion of staff who had seen or experienced such behaviour did not believe that what they had experienced or witnessed had been effectively dealt with. Of those who did witness or experience such behaviour, the number who believed it was not effectively addressed has not decreased since 2012 (see Figure 2).
3.17
Our impression is that actions in response to reporting are not always visible enough to staff. We acknowledge that the Police, like other organisations, are constrained by employment and privacy law in how much they can reveal in such matters. However, some staff told us that they believed the response to complaints in some instances was to move the staff member into a different position. In their view, this could be seen as a reward rather than a consequence. This risks staff becoming unwilling to report breaches of conduct or raise matters of concern.
3.18
Figure 2 shows staff responses from 2011 to 2014 to the question in the Police Workplace Survey, "If you have witnessed or experienced some form of harassment, discrimination, or bullying in the workplace in the last 12 months, do you believe it has been dealt with effectively?"
Figure 2
Responses from police staff to a survey question about whether harassment, discrimination, or bullying had been dealt with effectively, 2011-2014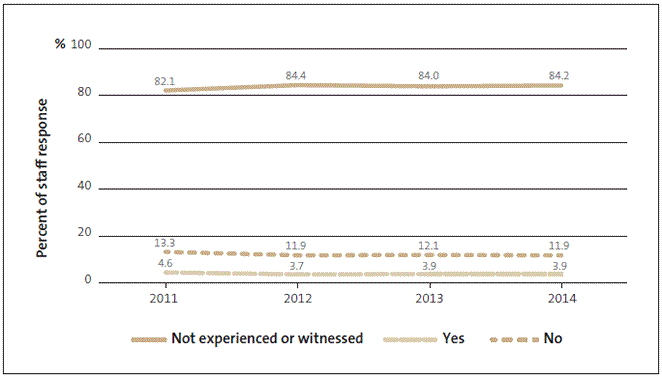 Source: IBM, New Zealand Police Workplace Surveys from 2011, 2012, 2013, and 2014.
3.19
When we carried out our audit fieldwork, the Police had reviewed the Code and were amending it to:
provide more clarity about the expectations of an employee's off-duty behaviour and personal relationships; and
update the organisational values that are reproduced in the Code.
3.20
Empathy and Valuing Diversity have been added to the Code as additional core values. These values encourage behaviour that should support a focus on the needs of victims.
Behaviour in keeping with values
3.21
The Police expect staff to behave in keeping with the Police's evolving strategy, values, culture, and practice.
3.22
In their most recent integrity and conduct survey, the Police reported higher levels of integrity and conduct in their workforce than in other State service organisations overall. In general, the Police reported less inappropriate behaviour than the rest of the State services. However, staff who observed inappropriate behaviour were less confident about its management.10
3.23
Police staff highly rated the conduct and integrity of their workgroups and direct managers. Police staff also told us that they saw, heard, and experienced less inappropriate behaviour than in the past.
Need for ongoing improvement: All staff understand the Code of Conduct
3.24
Although there is a good awareness of the Code, we consider that the Police could further improve some staff's understanding of the Code's purposes.
Using an early intervention system
3.25
The Police have implemented Early Intervention. The aim of the system is to use rehabilitative interventions to reduce the likelihood that police staff behave inappropriately and to deal with that behaviour before it comes to the attention of the disciplinary system or complaints process. This fits in with the Police's Prevention First strategy.
3.26
The Police are using Early Intervention in a manner consistent with its purpose. The Early Intervention database collates information from a range of the Police's systems. The Police's intranet explains that "For each category of information a threshold is set, which, if exceeded will cause an alert to be created." Examples are increased use of force in dealing with an offender, or complaints about a police officer.
3.27
The Police told us that 80 cases were created in 2013 and 135 cases in 2014 (105 of the 2014 cases were completed at the time of writing). The most common reason for an intervention in 2014 was complaints about the police officer (53% of cases).
3.28
In March 2014, the Police evaluated the outcomes of the 82 early interventions made to that date. Early results were positive, with a 63% reduction in complaints against the police officers involved after the intervention. The Police told us that, from a review of the 135 cases in 2014, they anticipate an even greater reduction in complaints against those police officers.
3.29
Figure 3 shows the outcomes of the interventions in 2013 and 2014.
Figure 3
Outcomes of interventions under the Police's early intervention system in 2013 and 2014 (calendar years)
| Outcome | 2013 | 2014 |
| --- | --- | --- |
| | Percentage of cases | Percentage (of 105 completed cases) |
| No further action being required after the first meeting and discussion (of the cases) | 75% | 65% |
| A welfare referral being made | 8% | 18% |
| The officer seeking and receiving a change of duties | 5% | 3% |
| The officer seeking and receiving further training | 4% | 1% |
| The officer receiving ongoing mentoring | 3% | - |
| Supervisor to monitor officer | - | 18% |
Note: The numbers reflect more than one outcome when the intervention was for more than one reason.
Need for ongoing improvement: Better workplace understanding of Early Intervention
3.30
The Police could increase staff awareness and understanding of Early Intervention. During interviews in police districts, few staff knew how Early Intervention worked and some were mistrustful of it. Supervisors who had used it found it helpful. The Police surveyed staff who have had an early intervention and found that four-fifths of respondents were positive about the experience. We also heard of staff members with stress in their personal lives who welcomed the intervention.
Taking action in response to inappropriate behaviour
3.31
The Police have a high-performance culture and generally take action when inappropriate behaviour is observed and reported, internally or publicly.
3.32
With staff matters like these, few people have access to all the details and the full organisational response. This means that all of those affected or aware of the matter do not see the action taken as effective. Some of the survey findings and a few of the comments made to us reflect this. The Police's dual role as a prosecutor and employer means that managing disciplinary matters is more complicated than in most other organisations.
3.33
In our view, it would be helpful, wherever possible, to make staff aware that appropriate action has been taken in response to behaviour that falls short of the Police's expectations.
Need for ongoing improvement: Training and performance management
3.34
The Police are aware (through various Workplace Survey and Code of Conduct review findings) of the main risks to improving how they manage inappropriate behaviour. In our view, the Police need to keep focusing on those risks and on generally improving how they manage staff behaviour.
3.35
Those risks include:
that people who have observed a breach of the Code (or what they think might be a breach) do not report it;
the inadequacy of training of staff in supervisory roles to support appropriate behaviour (training is incorporated into promotion training at the Police College but might need addressing at district level for some longer-serving staff); and
that some staff are too inflexible and close-minded to align their behaviour with the organisation's values.
3.36
The Police are working to improve performance management through manager training and a new performance management system.
3.37
The Police intend to introduce the new performance management system in 2016. The new system is expected to provide managers with better information so they can more effectively influence staff behaviour.
Publicity about inappropriate behaviour by the Police
3.38
During our audit, there has been considerable media and public interest in examples of police behaviour that have resulted in members of the Police appearing before the courts, and some police staff leaving the organisation.
3.39
In our view, it is most likely that the examples of police behaviour that have attracted public and media scrutiny are partly a result of the greater attention being given to reporting and managing inappropriate behaviour. Although we did not test this specifically, we note that the Police and the IPCA regularly release information to the public about police behaviour, as part of being accountable to the public. In May 2012, the Police also set up a "Praise and Complain" page on their website, with links to make it easier for members of the public to register feedback.11
3.40
Figure 4 shows that the number of general misconduct complaints reported to the IPCA, either by members of the public or by police staff, increased by 6.2% between 2009/10 and 2013/14. Around 12% of all complaints investigated are upheld. We did not determine a trend in upheld complaints from the data we reviewed. However, the Police told us that they are seeking to improve their complaints data and analysis to enable them to identify such trends.
Figure 4
Number of complaints (including sexual misconduct), from 2009/10 to 2013/14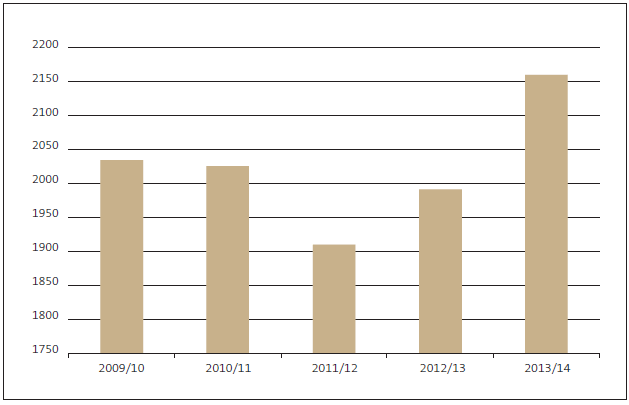 3.41
In an organisation of nearly 12,000 people, it is inevitable that people will sometimes fail to meet the expected standards of behaviour. Allegations of sexual misconduct are particularly serious. Figure 5 shows the number of complaints that allege sexual misconduct by police staff reported to the IPCA each year since 2009/10. The number of complaints vary, with the highest being 29 in 2012/13 and the lowest being 11 in 2011/12.
Figure 5
Allegations of sexual misconduct by police staff, from 2009/10 to 2013/2014
| Year | 2009/10 | 2010/11 | 2011/12 | 2012/13 | 2013/14 |
| --- | --- | --- | --- | --- | --- |
| All allegations of sexual misconduct by police staff | 19 | 17 | 11 | 29 | 19 |
3.42
What is important is that the Police take action to reduce the likelihood of inappropriate behaviour happening, know when it does happen, and take appropriate action. What we heard, observed, and read suggests that, in general, the Police seek to do this.
3.43
We note that the latest survey carried out by the Police to measure public trust and confidence in the Police12 shows a high level of public confidence in the Police. The results indicate a growing improvement in the service received by those (42% of those surveyed) who had direct contact with the Police. The results reflect greater communication, positive attitude, and empathy from police staff.
---
8: The New Zealand Police Code of Conduct, available at www.police.govt.nz.
9: See New Zealand Police Workplace Survey 2014, page 8, available at www.police.govt.nz.
10: We drew on the Police's integrity and conduct survey for some of this information. The overarching State services survey, Integrity and Conduct Survey 2013, is available at www.ssc.govt.nz.
11: See www.police.govt.nz/contact-us/praise-and-complain.
12: New Zealand Police Citizens' Satisfaction Survey Final Report for 2013/14 Fiscal Year (July 2013 – June 2014), available at www.police.govt.nz.