36. In the most recent incident of fraud or corruption within your organisation that you are aware of, what type was committed?
Public Sector Fraud Awareness Survey - Findings: Incidents of fraud.
Observation:
PwC comment:
In the main, fraud in New Zealand largely relates to misappropriation of assets, particularly money. In many other countries, fraud includes financial mis-statement, revenue recognition and other forms of "accounting fraud".
Respondents could select more than one answer for this question.
Of the 22.5% of respondents who were aware of at least one incident of fraud in their organisation, the two most prevalent types of incident reported were theft of cash (26.5%) and fraudulent expense claims (17.1%).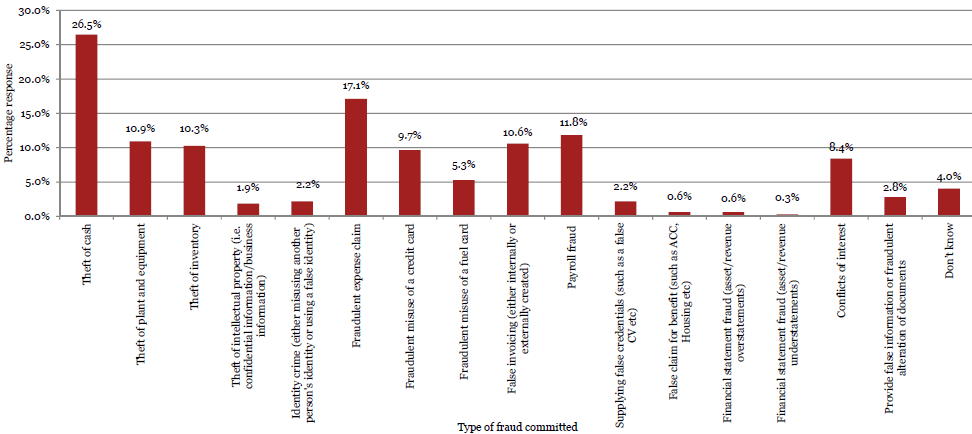 Note:
To help simplify the detailed tables, which depict the responses by sector, the types of fraud committed are in four groups:
1. Theft, encapsulating:
Theft of cash
Theft of plant and equipment
Theft of inventory
Theft of intellectual property
2. Fraudulent claims, encapsulating:
Identity crime
Fraudulent expense claim
Fraudulent misuse of a credit card
Fraudulent misuse of a fuel card
Payroll fraud
False claim for benefit
3. Falsifying documents, encapsulating:
False invoicing
Supplying false credentials
Financial statement fraud (asset/revenue over statements and under statements)
Provide false information or fraudulent alteration of documents
4. Conflicts of interest
Some examples provided by respondents:
"Using school phone by cleaner from external cleaning company supplier to call family overseas"
"Fraudulent use of phone system (international calls)"
"Regular use of a spare company car park without approval - and a deception to continue that use."
"Falsification of research data"
"Misuse of plant and equipment without authority."
"Booking travel for personal use"
"Failure to obtain approval in advance for purchase resulting in unapproved expenditure breaching policy via p-card rather than fixed asset system (value <$1000)"
"Committing the organisation to a contract outside delegation."
 
Theft
Fraudulent claims
Falsifying documents
Conflicts of interest
Don't know
Total
Central Government
 
 
 
 
 
 
 
 
 
 
 
Autonomous Crown Entities
2
17%
8
67%
1
8%
0
0%
1
8%
12
Central Government - Other
4
31%
5
38%
2
15%
2
15%
0
0%
13
Crown Agents or Companies 
4
15%
13
50%
5
19%
4
15%
0
0%
26
Crown Research Institutes
0
0%
0
0%
2
100%
0
0%
0
0%
2
District Health Boards
8
27%
15
50%
6
20%
1
3%
0
0%
30
Government Departments
17
25%
38
55%
7
10%
5
7%
2
3%
69
Independent Crown Entities
0
0%
0
0%
0
0%
0
0%
0
0%
0
Māori Trust Boards
3
100%
0
0%
0
0%
0
0%
0
0%
3
Rural Education Activities Programmes
2
100%
0
0%
0
0%
0
0%
0
0%
2
State-Owned Enterprises
12
44%
8
30%
2
7%
4
15%
1
4%
27
Tertiary Education Institutions
16
43%
12
32%
7
19%
1
3%
1
3%
37
Sub-Total
68
31%
99
45%
32
14%
17
8%
5
2%
221
 
Theft
Fraudulent claims
Falsifying documents
Conflicts of interest
Don't know
Total
Local Government
 
 
 
 
 
 
 
 
 
 
 
Airports
2
40%
1
20%
0
0%
1
20%
1
20%
5
Council Controlled Organisations or Council Controlled Trading Organisations
8
42%
6
32%
2
11%
1
5%
2
11%
19
Energy Companies
8
47%
7
41%
0
0%
2
12%
0
0%
17
Fish and Game Councils
0
0%
1
100%
0
0%
0
0%
0
0%
1
Licensing and Community Trusts
7
70%
0
0%
3
30%
0
0%
0
0%
10
Local Authorities
45
56%
17
21%
9
11%
5
6%
5
6%
81
Local Government - Other 
0
0%
0
0%
0
0%
0
0%
0
0%
0
Port Companies
0
0%
0
0%
0
0%
0
0%
0
0%
0
Sub-Total
70
53%
32
24%
14
11%
9
7%
8
6%
133
 
 
 
 
 
 
 
 
 
 
 
 
Schools
21
44%
19
40%
7
15%
1
2%
0
0%
48
Total
159
40%
150
37%
53
13%
27
7%
13
3%
402
page top