Appendix 2: Structure of the health and disability sector
Progress with priorities for health information management and information technology.
The health and disability sector after the New Zealand Public Health and Disability Act 2000 was enacted, showing key information and funding flows, is presented below.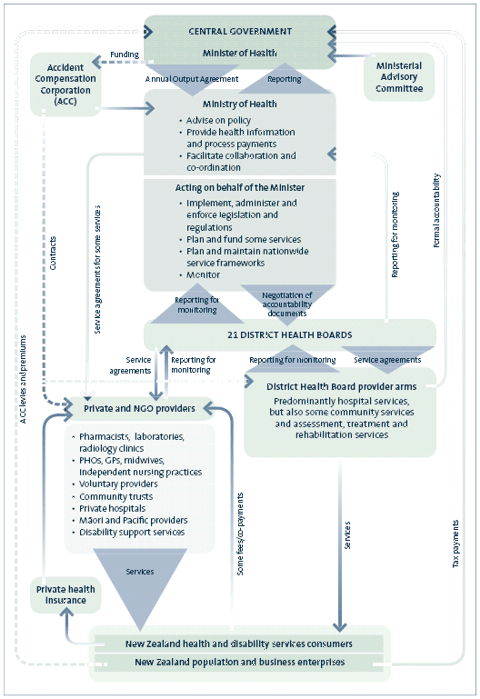 Minister of Health
The Minister of Health has overall responsibility for the health and disability support system. The Minister works through the Ministry of Health to enter into accountability arrangements with District Health Boards, determine the health strategy, and agree how much public money will be spent on the public delivery of services.
Ministry of Health
The Ministry of Health has as number of functions. For example, the Ministry:
provides policy advice on improving health outcomes, reducing inequalities and increasing participation;
acts as the Minister's agent;
monitors the performance of District Health Boards, and other health sector Crown entities;
implements, administers and enforces relevant legislation and regulations;
provides health information, and processes payment;
facilitates collaboration and co-ordination within and throughout sectors;
provides nationwide planning and maintenance of service frameworks; and
plans and funds public health, disability support services and other services that are retained centrally.
District Health Boards
District Health Boards are Crown entities responsible to the Minister of Health (administration is through the Ministry). Each board has up to 11 members, 7 of whom are elected by the community. A minority of members (up to 4) are appointed by the Minister of Health.
In recognition of the Crown's partnership with Māori, each board must have at least 2 Māori members, and preferably a greater number if Māori make up a higher proportion of a DHB's population. There are 21 District Health Boards.
District Health Boards are responsible for planning, funding and ensuring the provision of health and disability services to a geographically defined population. District Health Boards provide hospital (and some community-based) services.
District Health Boards are responsible for improving, promoting and protecting the health and independence of their populations. Boards must assess the health and disability support needs of the people in their regions, and manage their resources appropriately in addressing those needs.
Central government provides broad guidelines on what services the District Health Boards must provide, and national priorities have been identified in The New Zealand Health Strategy. A range of providers including public hospitals, non-profit health agencies, iwi groups or private organisations can deliver services.
Funding is allocated to District Health Boards using a weighted population-based funding formula.
Since the New Zealand Public Health and Disability Act was passed in late 2000, District Health Boards have been progressively devolved greater responsibilities, and in 2003 they took on responsibility for services for older people with disabilities. This means that District Health Boards are responsible for all services except public health, disability support services for people with long-term disabilities (largely those aged under 65) and some national contracts; these areas are the responsibility of the Ministry of Health.
Primary Health Organisations and other service providers
Service providers – including acute hospitals, some services such as assessment, treatment and rehabilitation services, and most public health services – come under the wing of District Health Boards, while general practitioners, Primary Health Organisations, rest homes and midwives are independent and are contracted to supply services by District Health Boards or the Ministry.
District Health Boards are responsible for establishing, funding and monitoring Primary Health Organisations, which are responsible for providing a set of essential primary health care services to a defined population. At a minimum, these services will include approaches directed towards improving and maintaining the health of the population, as well as first-line services to restore people's health when they are unwell.
Accident Compensation Corporation
The Accident Compensation Corporation is a Crown entity. It provides universal accident insurance cover, injury prevention services, care management, and medical and other care and rehabilitation services and its responsibilities are:
preventing injury;
collecting accident insurance premiums;
determining whether claims for injury are covered by the scheme and providing entitlements to those who are eligible;
paying compensation;
buying health and disability support services to treat, care for and rehabilitate injured people; and
advising the Government.
page top