101
The salaries, allowances and other entitlements of Members of Parliament (MPs) have drawn considerable attention in recent months. The cases of Ms Bunkle and Ms Hobbs provided an outlet for strongly held public views about MPs' entitlements. The debate also revealed some misunderstanding about what MPs are paid. Regardless of its simple appearance the issue is not straightforward, and there has been a dearth of informed comment to facilitate discussion.
102
Our Interim Report of March 2001 – Members of Parliament: Accommodation Allowances for Living in Wellington – looked at a specific part of the regime for salaries and other entitlements payable to MPs. In particular, it explained how Ms Phillida Bunkle MP and Hon Marian Hobbs MP could claim accommodation allowances for living in Wellington while they were registered as electors in the Wellington Central electorate.
103
Our Interim Report also considered how Ms Bunkle came to be allocated a ministerial residence in Wellington.
104
In this, our second and final report, we consider ways in which the systems, policies, and procedures for MPs' entitlement to and payment of remuneration and expenses could be made more transparent, efficient, and consistent with tax law.
105
Most commentators agree that a properly functioning, representative democracy will always come at a cost. In approaching this area of public expenditure, we identified three simple yet fundamental questions that are relevant to any discussion of MPs' salary and other entitlements:
What does an MP do?
How should individual MPs be paid for what they do?
How should the system distinguish between remuneration and the expenses that MPs incur in doing their job?
106
The distinction between "remuneration" and "expenses" is important in understanding the system and our proposals for how the system can be improved.
The Parties Involved
107
The system for paying salaries and other entitlements to MPs and Ministers is complex, and revolves around relationships between the following people and agencies:
the Higher Salaries Commission (HSC);
the Speaker;
the Minister Responsible for Ministerial Services;
the Parliamentary Service Commission (PSC);
the Department of Internal Affairs (DIA), and (in particular) the Ministerial Services business unit of the Executive Government Support branch of DIA (Ministerial Services);
the Parliamentary Service; and
MPs and Ministers (as recipients).
108
These relationships are illustrated in Figure 1 below.
Figure 1
Relationships Between the Parties Involved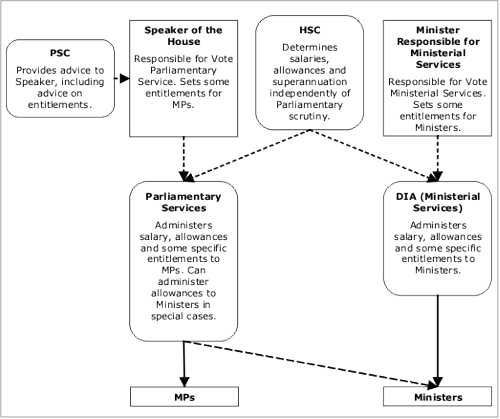 page top