Part 1: Introduction
Inquiry into the Strategic Tourism Assets Protection Programme.
Covid-19 and the tourism industry
1.1
Covid-19 was an unprecedented challenge for New Zealanders and for the Government. The tourism sector was severely affected by the border closure on 19 March 2020 and the lockdowns that followed. In May 2020, the Government forecast 92,000 job losses in 2020 and cumulative losses of $18-21 billion over four years for the tourism sector.
1.2
There was uncertainty about how long the borders would be closed and how quickly demand for domestic travel would return. Some public sector officials were also concerned about the potential purchase of tourism assets by foreign buyers, resulting in strategically important assets possibly passing into foreign ownership.
The Strategic Tourism Assets Protection Programme
1.3
The Strategic Tourism Assets Protection Programme (STAPP) was established in May 2020. Its purpose was to provide funding for strategically significant tourism assets (that is, tourism assets that contribute significantly to their local region and to tourism in New Zealand). Fast delivery of funding to the tourism sector was a main imperative. At the outset, about $290 million of the original $400 million Tourism Recovery Fund was committed to the tourism sector through STAPP.
1.4
The Tourism Recovery Ministers Group was responsible for making decisions under STAPP, including setting the eligibility criteria. The group comprised the Ministers of Finance, Tourism, Māori Development, Conservation, and the Under-Secretary of Regional Economic Development. Cabinet had authorised the Tourism Recovery Ministers to make decisions before STAPP started if there was an imminent risk of a tourism business failing.1
1.5
On 4 June 2020, before STAPP started accepting applications for funding, three tourism businesses approached the Minister of Tourism and the Ministry of Business, Innovation and Employment (the Ministry) seeking funding. These three businesses were Whale Watch Kaikōura, AJ Hackett Bungy New Zealand, and Discover Waitomo. The Tourism Recovery Ministers approved funding for these three businesses.2
1.6
The formal application round was open for two weeks from 4 June 2020. When STAPP closed on 18 June 2020, the Ministry had received 304 applications. Another four applications were submitted within two hours of the deadline. These were accepted, bringing the total to 308.3
1.7
The Tourism Recovery Ministers made decisions about which applications would receive funding by the end of July 2020. Payments were made after funding agreements were signed.
1.8
Figure 1 shows a timeline from the announcement of STAPP to the decision-making process.
Figure 1
Timeline of the Strategic Tourism Assets Protection Programme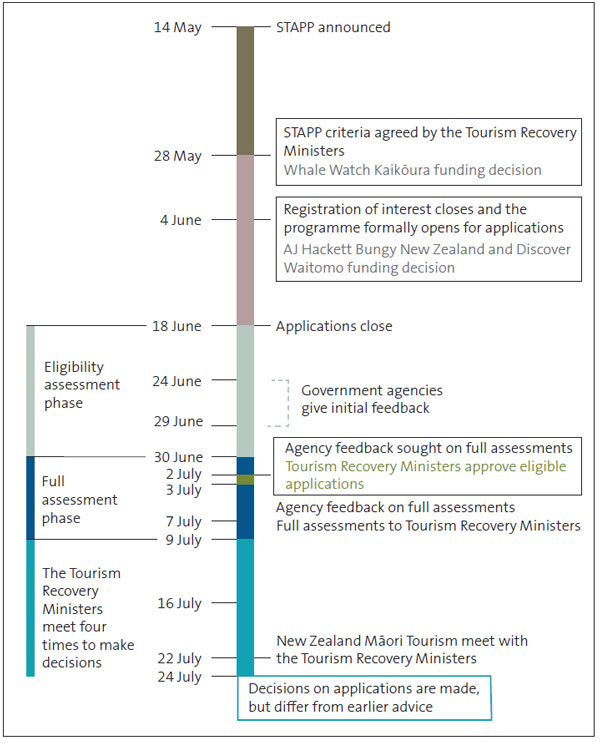 Source: Office of the Auditor-General
Who was involved?
1.9
The Ministry led the development of STAPP's application and assessment process, building on work by Tourism New Zealand. The Treasury provided advice to the Minister of Finance on aspects of STAPP's design and of the funding models proposed.
1.10
Other agencies that reviewed STAPP's application assessments included:
the Department of Conservation;
Te Puni Kōkiri;
the Ministry for Culture and Heritage;
Tourism New Zealand; and
New Zealand Māori Tourism (a non-government independent incorporated society that promotes and supports Māori tourism).
Why we were interested in this matter
1.11
Concerns about STAPP have been raised in the media and with our Office. Tourism businesses have questioned the clarity and transparency of STAPP's criteria and whether they were applied consistently.
1.12
Because of the concerns we have heard, the amount of public funding involved, and the importance of robust funding processes to the public's trust and confidence, we decided to carry out an inquiry looking at STAPP's processes for assessing applications for funding.
What we looked at
1.13
Our work focused on how applications from tourism businesses were assessed against STAPP's criteria. We looked at:
the information available about STAPP's eligibility criteria and assessment process;
how applications from tourism businesses have been assessed, including the three tourism businesses that received funding approval before the formal application round began;
whether there is any evidence that applications have been assessed inconsistently; and
any other related matter that we consider desirable to report on.
1.14
We also comment on the monitoring arrangements that were put in place for successful STAPP applications.
1.15
In keeping with the Auditor-General's role, our inquiry focused on the actions and processes underpinning the initial eligibility assessments of applications for STAPP funding and the subsequent assessment of these applications. We looked at how a selection of eligibility assessments were carried out. We looked at whether decisions about funding were consistent. We did not examine the substantive merits of the policy, individual applications, or funding decisions.
1.16
We understand that one criticism of STAPP is that it has distorted the tourism market because tourism businesses that received funding have a competitive advantage over those that did not apply or were not successful. This issue does not sit within our mandate.
What we did
1.17
In carrying out our work, we:
examined documents from the Ministry and New Zealand Māori Tourism;
met Ministry officials who were involved in developing, advising, and decision-making;
met with officials from the Ministry for Culture and Heritage, Ministry for the Environment, Department of Conservation, Te Puni Kōkiri, and Tourism New Zealand who were involved in reviewing STAPP applications;
met with officials from New Zealand Māori Tourism who were involved in the full assessment process;
met with Deloitte New Zealand (Deloitte) to understand the financial analysis and monitoring carried out for STAPP applications; and
requested information from the Tourism Recovery Ministers and met with the former Minister of Conservation.
The structure of this report
1.18
In Part 2, we discuss the development of the STAPP criteria .
1.19
In Part 3, we discuss the three tourism businesses that applied for funding before STAPP officially started. We also discuss the applications and the eligibility assessment process.
1.20
In Part 4, we discuss the full assessment process that most STAPP applications went through and the funding decisions.
1.21
In Part 5, we discuss the decisions the Tourism Recovery Ministers made about STAPP.
1.22
In Part 6, we discuss what monitoring processes were in place for successful applications.
---
1: DEV-20-MIN-0080 COVID-19 response: Tourism Sector Recovery Plan.
2: The Tourism Recovery Ministers approved funding for Whale Watch Kaikōura on 28 May 2020 and funding for AJ Hackett Bungy New Zealand and Discover Waitomo on 4 June 2020.
3: Forty-five inbound tour operators applied for funding under STAPP. On 30 June 2020, the Tourism Recovery Ministers agreed that funding for inbound tour operators should be considered separately from STAPP. Inbound tour operator funding was not in the scope of this inquiry.