Response to our recommendations about maintaining state highways
31 May 2022: We asked Waka Kotahi New Zealand Transport Agency (Waka Kotahi) for an update on its response to recommendations we made in 2020 about maintaining state highways through Network Outcomes Contracts.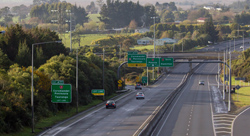 We requested this update because we want to provide public transparency on progress with addressing our recommendations.
In 2020, our report New Zealand Transport Agency: Maintaining state highways through Network Outcomes Contracts looked at how well Waka Kotahi is using Network Outcomes Contracts to maintain state highways and the outcomes being achieved, including the effect on the road condition of state highways. These contracts are between Waka Kotahi and a primary supplier to provide services fence to fence, such as maintenance for pavements, signs, and streetlights. Waka Kotahi uses these contracts to maintain more than 90% of the roads making up the state highway network.
Overall, we found that Waka Kotahi had achieved some benefits from using Network Outcomes Contracts, such as better targeted investment through a stronger process to decide when and where to renew roads. However, we thought that Waka Kotahi needed to better understand how well these contracts contribute to achieving safe and reliable state highways, and to more systematically monitor and manage strategic risks.
We recommended that Waka Kotahi:
monitor and report on the outcomes and benefits achieved from the Network Outcomes Contracts to help it ensure that the contracts are effectively and efficiently supporting the agency in achieving safe, resilient, and reliable state highways;
identify, mitigate, monitor, and report on the strategic risks from maintaining the state highway network to reduce the likelihood of those risks affecting the safety, reliability, and resilience of state highways;
review the roles and delegations of the parties involved in the Network Outcomes Contracts to ensure that they are clear and support collaborative processes between the agency and suppliers; and
measure, assess, and report its own performance in supporting the Network Outcomes Contracts, as intended, so it can identify opportunities to improve and be held to account for its own performance.
Read what Waka Kotahi has said about its progress with those recommendations:
We have not audited the information in this update.
At this stage, we do not plan to carry out any further performance audit work to follow up on our 2020 report. However, as with all our work, we might choose to carry out a formal follow-up audit on our recommendations, or any aspect of our 2020 performance audit, in the future.
Our Sector Managers will continue to seek further updates from Waka Kotahi as part of their usual engagement.
Photo acknowledgement: mychillybin © Lynn Clayton