Our interest in the housing sector
Housing and urban development: The challenges and our interest.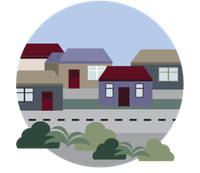 The Auditor-General has an interest in: 
The effectiveness of government activities
Each year, we take a look at the effectiveness and efficiency of aspects of the public sector's performance. We can look at:
System leadership: Through policies and regulations, the Government provides incentives and influences behaviour. We want to see whether government agencies monitor how the broader housing system operates and whether their activities and policy changes are effective.
Infrastructure: Because infrastructure is essential to urban development, we want to know that projects are governed well. We also want to know how councils and government agencies such as Waka Kotahi plan their investment, carry out procurement, and then manage their assets.
Planning for significant projects: We want to know whether government agencies plan effectively, including whether the plans of different agencies align and ensure that the building of houses, as well as physical, and social infrastructure (such as schools) support positive urban development outcomes.
Improving outcomes for New Zealanders
Housing and urban development initiatives are often part of a broader outcome that the Government is seeking. Some of the broader outcomes are social, such as stronger communities, and others are about better preparedness, like being better prepared for natural and other disasters and climate change.
We cannot easily do audit work on these broader outcomes but can provide advice and suggest questions for select committees to ask government agencies about.
Assurance over the use of public resources and appropriate reporting
We audit all public organisations, including councils. For councils, we also issue audit reports on their long-term plans and on the consultation documents that councils issue before they finalise their long-term plans.
We look at asset management and investment 
Our annual audit work provides assurance over financial and performance reporting, including the number of houses built. For example, Kāinga Ora's public housing stock is valued at more than $30 billion and its building activity is an important part of the Government's involvement in the housing sector.
We are also interested in how this housing is maintained. Kāinga Ora spends about $500 million on maintenance every year, and has indicated that 75% of its houses will need to be upgraded over the next 20 years.
In March 2021, the Government announced a $3.8 billion fund (the Housing Acceleration Fund) for infrastructure and land development. We will have an interest in how this funding is spent.
We look at direct funding
The Government spends more than $3 billion each year on housing support payments (the Income Related Rent Subsidy and the Accommodation Supplement). We provide assurance about the systems and processes for these payments as part of our annual audits.
We look at other housing-related matters
Our recent annual audit work also covered housing-related matters.
For example, for councils:
performance on building and resource consenting decisions, and how councils report it; and
capital expenditure and infrastructure investments.
For the Ministry of Housing and Urban Development:
KiwiBuild Buying off the Plans Scheme;
KiwiBuild Land for Housing programme;
performance reporting;
procurement and contract management for public and transitional housing; and
governance and assurance.
For Kāinga Ora:
Build Programme;
rental property valuation; and
borrowings.
Next: Read about our advice to the Social Services and Community Committee