Snapshot: Auditing the Government's financial statements
Observations from our central government audits: 2020/21.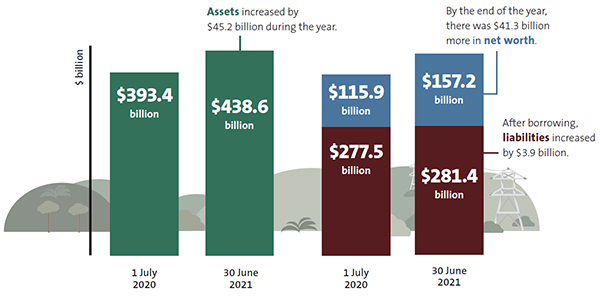 Table describing the image above
1 July 2020
30 June 2021
Assets
$393.4 billion
$438.6 billion
Assets increased by
$45.2 billion during the year.
Liabilities
$277.5 billion
$281.4 billion
After borrowing
liabilities increased
by $3.9 billion.
Net worth
$115.9 billion
$157.2 billion
By the end of the year,
there was $41.3 billion
less in net worth.
Net worth
If we look at it for each person...
The increases in total net worth (or "equity") is significant. This is mainly due to the Government's land and buildings and share portfolio increasing in value.
Based on a population of 5 million, each of us started the year with a "share" of the Government's net worth of about $23,200 – and it has increased by about $8,200 to $31,400.
This is a notable recovery, considering the net worth per person had dropped by about $5,400 last financial year.
Government's assets increased in value
Government assets have increased significantly since 2019/20.

The value of housing stock (land and buildings) has increased significantly, mainly due to market conditions.
The Government also acquired $10 billion of new assets. These were mostly improvements to

schools, hospitals, and the state highway network.

The value of shares increased by $15 billion. This was mainly due to the share market recovering after the initial outbreak of Covid-19.
Government's liabilities increased a little

Government borrowings increased during the year, but by significantly less than in 2019/20.
The increase in borrowing was mostly related to Covid-19. It was offset by a decrease in insurance and retirement liabilities.
Retirement liabilities decreased because of better returns on investments and changes to the underlying assumptions used in the calculations.

Many district health boards and schools have still not calculated how much they need to pay their staff for money owed under the Holidays Act 2003. The uncertainty is considerable, and the ongoing delay is concerning.

The amount ACC estimates it might need to pay in the future for injuries decreased (because of changes in the assumptions used to calculate the liability).