Introduction
The Auditor-General's strategic intentions to 2025.
The Auditor-General's strategic intentions to 2025 (our strategic intentions) describes the outcomes and impacts we are ultimately working towards, and the strategy we have developed to help get us there.
Every three years, we publish the Auditor-General's strategic intentions in keeping with Part 4 of the Public Finance Act 1989. Reassessing our strategic intentions helps to ensure that our strategic direction remains responsive to the challenges of our wider environment, and that our work is focused on the issues that matter most to New Zealand.
Our role, purpose, and values
The Auditor-General is an Officer of Parliament. The role is an important part of the constitutional framework in New Zealand. The role exists because the ultimate authority for all public sector activity stems from Parliament.
As a pillar of the national integrity system, we aim to increase trust and confidence in the public sector and in government.
Our purpose is improving trust and promoting value in the public sector.
We play an important role in influencing lasting improvements in public sector performance and accountability. To do this, the Office of the Auditor-General must be seen as independent, reliable, and trustworthy.
The values that we uphold and that underpin everything we do are:
People matter;
Our independence is critical;
We act with integrity and courage; and
We're here to make a difference.
The outcomes we seek
The ultimate outcome we seek is that Parliament and New Zealanders have trust and confidence in the public sector. For this to happen, the public sector has to perform well and provide reliable, meaningful, and timely information so it can be held accountable. Everything we do is directed towards achieving these outcomes (see our performance framework in Figure 1).
Our vision is of a high-performing and trusted public sector.
No other organisation, public or private, has the overview of the whole public sector that we have. As the auditor of every public organisation, we have a role with each. This gives us a unique position from which to influence improvements in the public sector's performance, and the management and accountability systems in which it operates.
Figure 1
Our performance framework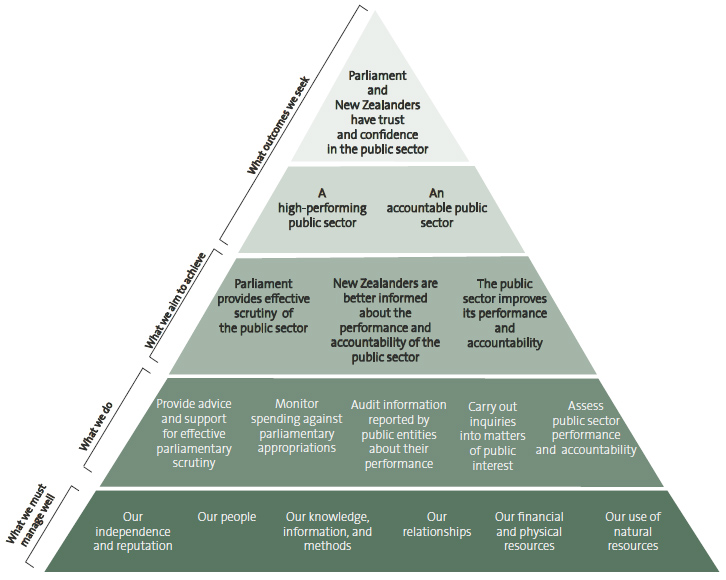 What we do, and how we organise and fund our work
Below is a description of what we do. Our activities are listed in the lower middle section of our performance framework.

Providing advice and support for effective parliamentary scrutiny
Each year, we publish reports on the results of our annual audits, performance audits, major inquiries, and other work. The information we gather gives us a unique view of the challenges, emerging issues, and trends in the public sector.
We use this information to provide advice and support to Parliament and select committees, including through annual reviews of public organisations, and the Estimates examinations after the Government announces its budget each year.
We also carry out and report on our responsibility under the Local Government (Auckland Council) Act 2009 to review the service performance of Auckland Council and its subsidiaries.
Monitoring spending against parliamentary appropriations (our Controller function)
In conjunction with our annual audits, we carry out appropriation audits of government departments. Appropriation audits are designed to provide assurance that spending by government departments and Offices of Parliament is lawful and within the scope, amount, and period of the appropriation or other authority. It supports the important constitutional principle that the Government cannot spend, borrow, or impose a tax without Parliament's approval.
Annual audits of information reported by public organisations about their performance
Annual audits of public organisations are the core work of our Office, accounting for nearly 85% of our resources. These result in issuing about 3300 audit reports each year. We also issue reports to those charged with governance on how the public organisations' control environment, performance and reporting could be improved. Our annual audits fundamentally support the integrity of the financial and performance reporting of public organisations. All our work is built on this solid foundation.
The annual audit work is carried out by either the Auditor-General's in-house audit service provider, Audit New Zealand, or private sector audit service providers.
Our audit work is funded by fees charged to each audited public organisation, which are agreed after a negotiation process. This creates some constructive tension to ensure that audit fees are reasonable. The fees must be fair to the organisation, but also provide a fair return to the auditor.
As well as annual audits, we have a number of other core functions.
Other assurance work
Audit New Zealand also carries out other assurance work. This work is generally focused on reviewing procurement and contract management, project management, asset management, risk management, governance arrangements, and conflicts of interest. It can include any services of a kind that it is reasonable and appropriate for an auditor to perform.
Assurance is typically provided to senior managers and governors. By extension such assurance work supports private and voluntary sector stakeholders' trust and confidence in public organisations. It promotes value by helping public organisations comply with rules and guidelines and adopt good practice. Audit New Zealand and other audit service providers also carry out other assurance engagements that are prescribed in legislation other than the Public Audit Act 2001.
These assurance engagements, include (for example) work to support disclosure regimes required by the Commerce Commission.
Carrying out inquiries into matters related to the use of public resources
Our inquiries work is an important mechanism for improving Parliament's and New Zealanders' trust and confidence in the public sector.
Inquiries can arise from our audit or other work, requests from members of Parliament or a public organisation, or concerns raised by the public. We consider many issues and receive many requests for inquiries, with the number of requests increasing each year. We make decisions about whether issues warrant investigation as matters of concern arise.
Assessing public sector performance and accountability (through performance audits and special studies)
Performance audits and special studies are an important part of our work programme. They enable us to delve more deeply into particular matters than we are able to in our annual audits, and make recommendations for improving public sector performance. We also monitor public organisations' progress in implementing the recommendations from our previous performance audits.
How we are organised
The Auditor-General's work is carried out by about 420 staff in two business units – the Office of the Auditor-General (OAG) and Audit New Zealand – supported by our shared Corporate Services.
We also contract audit service providers from the private sector to carry out some audits on the Auditor-General's behalf.
We refer to these four groups, together with the Auditor-General and the Deputy Auditor-General, collectively as "the Office".
Figure 2
Our organisational structure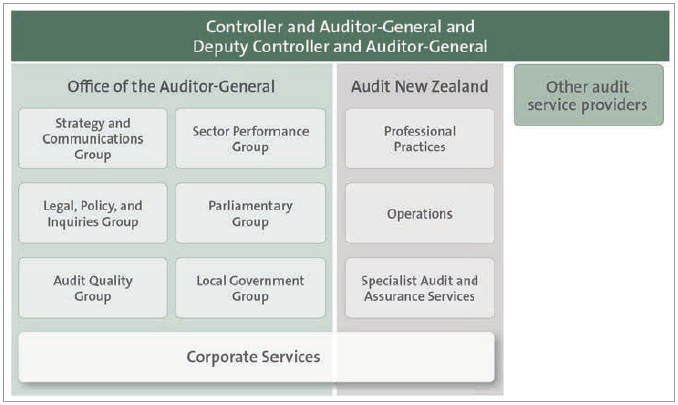 How we are funded
The Office's work is funded through Vote Audit, which has two output appropriations – Statutory Auditor Function and Audit and Assurance Services.
The appropriation for Statutory Auditor Function is largely Crown-funded and includes two classes of outputs: Performance Audits and Inquiries and Supporting Accountability to Parliament. This appropriation covers these outputs, which are carried out in the OAG as well as by our shared Corporate Services.
The Audit and Assurance Services appropriation is for carrying out audits and related assurance services as required or authorised by different laws. This output class is largely funded by audit fees collected directly from public organisations and funds the functions carried out by our Audit New Zealand business unit, a portion of the OAG and our shared Corporate Services, and the audits carried out by contracted audit service providers.