The Provincial Growth Fund at a glance
Managing the Provincial Growth Fund.
What is the Provincial Growth Fund?
The Provincial Growth Fund is an investment fund of $3 billion to be spent over three years, and it was launched in February 2018.
The focus is on six surge regions (shaded on the map). Projects in Auckland, Wellington, and Christchurch are ineligible for funding.
The Fund's objectives for regional New Zealand are to:
create jobs, leading to sustainable economic growth;
increase social inclusion and participation;
enable Māori to realise aspirations in all aspects of the economy;
encourage environmental sustainability and help New Zealand meet climate change commitments alongside productive use of land, water, and other resources; and
improve resilience, particularly of critical infrastructure, and diversify our economy.
What is being funded?
The four largest sectors, by amount committed as at 31 March 2020, were:
rail – $533.4 million;
forestry – $437.3 million;
tourism – $376.5 million; and
roads – $244.9 million.
Who manages the Fund?
The Fund is primarily managed through a unit in the Ministry of Business, Innovation and Employment (MBIE) and also through several government departments.
The unit in MBIE is called the Provincial Development Unit. The other government departments mainly responsible for parts of the Fund include:
the Ministry of Transport for road and rail projects;
a different part of MBIE for tourism infrastructure;
the Ministry for Primary Industries for the One Billion Trees programme; and
the Department of Conservation for conservation projects.
How is the money paid out?
As well as grants, there can be:
loans (where the applicant is expected to pay back the Crown);
equity (where the Crown will take up an interest in the project, becoming a part owner);
underwriting (where the Crown will buy an asset or guarantee the applicant funding if the applicant cannot dispose of the asset); and
bespoke contracts (for example, contracts involving leasing land to plant trees as part of the One Billion Trees programme).
Spending by region, as at 31 March 2020
Key: Committed | Contracted | Spent to 31 March 2020

Committed funding has been "ring-fenced" for a particular purpose. Once specific projects are approved, contracts are agreed for those projects.
Totals: $2,869.0 million | $1,305.0 million | $511.7 million

Surge regions: Shaded

Exclusions: Auckland, Wellington, Christchurch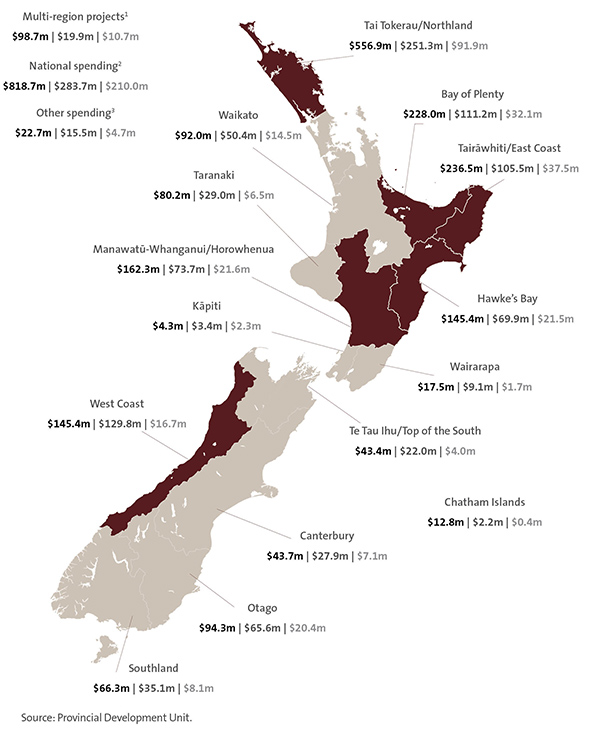 1. Multi-region projects include projects covering two or more regions.
2. National spending includes sector funding not yet assigned to particular regions, operating costs for the Ministry for Primary Industries and Provincial Development Unit, and contingency funding.
3. Other spending includes those projects that by their nature or location do not fit elsewhere (see paragraph 1.23).