Part 3: Working with the health sector
Ministry of Health: Supporting the implementation of patient portals.
3.1
In this Part, we discuss:
Summary of our findings
3.2
The Ministry worked well with the health sector and with a consumer panel that represented the interests of the general public. This collaboration contributed to improved uptake of patient portals.
3.3
Working with a range of organisations in the health sector helped the Ministry to identify and address the reasons why some general practices were reluctant to implement patient portals.
3.4
The Ministry is continuing to work with the health sector to provide support and advice to general practices, which should continue to increase the uptake of patient portals.
Working with a wide range of health sector organisations
3.5
To support the successful implementation of patient portals, the Ministry worked with a wide range of organisations from the health sector, including:
PHOs and district health boards (DHBs);
the College of GPs, General Practice New Zealand Incorporated, and the New Zealand Rural General Practice Network;
Patients First Limited – a not-for-profit charitable company that supports the delivery of health services to the public by facilitating the preparation and implementation of health information technology (IT) solutions and frameworks; and
some general practitioners.
3.6
The Ministry also worked with expert advisory groups. For example, the National Information Clinical Leadership Group provided clinical leadership and advice into IT programmes, such as patient portals. The group's members came from a variety of professional bodies and colleges.
3.7
The Ministry also set up a consumer panel in late 2010 to ensure that a viewpoint from the general public was provided on IT matters related to healthcare, including patient portals. The consumer panel's role includes advising the Ministry on consumer-centred health issues, such as how to give people the confidence to allow their health information to be shared online. The panel can include up to 14 New Zealanders with different health statuses and from different ethnicities, age groups, and regions.
3.8
In 2012, the Ministry worked with the health sector through a series of public and community seminars and DHB briefings focused on sharing health information online. The Ministry told us that the seminars were an important first step to supporting the implementation of patient portals.
3.9
The Ministry consulted with experts, gathered a range of views, and commissioned research to understand the issues around patient portals and help shape the approach that would best support their successful implementation. Part of this approach included setting minimum criteria requirements that systems had to meet to be classed as a portal. These requirements included people being able to:
book appointments online at any time;
request repeat prescriptions;
receive recalls for screening or immunisations;
communicate with their doctor through secure two-way messaging;
see annotated lab results;
see summaries of clinical notes; and
see a list of their medications, health events, and immunisations.
3.10
General practices could choose which functions they would start with. Many started with just one or two functions while they adapted to the new service.
Identifying and addressing barriers to the uptake of patient portals
3.11
Working with a broad range of health sector organisations, the Ministry identified several barriers to the uptake and use of patient portals (Figure 1).
Figure 1
Barriers to the uptake and use of patient portals
| | |
| --- | --- |
| Cost and ease of implementation and use | There were concerns about the cost of implementing a patient portal, such as purchasing and installing the software, training staff, and maintaining the patient portal. There were also uncertainties about the financial effect of online consultations. |
| Safety issues | Doctors were concerned about the risk of misdiagnosis, and that patients might not see an email or would not understand or would misinterpret the doctor's notes. |
| Privacy and confidentiality | There were concerns about people sharing or accessing information inappropriately or hacking into the patient portal. |
| Increased workload | There were concerns about a high volume of emails or people overusing the messaging function. |
| The attitude of doctors | Some doctors were resistant to change for several reasons, including thinking that people who were poor, old, had disabilities, or were not native English speakers would not be able to, or want to, use patient portals. |
| Lack of access to the internet | Lack of internet access can be a barrier, particularly in rural areas, and for some Māori communities. |
3.12
The Ministry recognised that these barriers and concerns needed to be addressed. With support and endorsement from the College of GPs, and help from other health sector organisations, the Ministry worked to address these barriers in a number of ways. We describe them below.
Providing funding and financial advice
3.13
The Ministry provided a small amount of funding to PHOs to help them increase patient portal uptake in their general practices. The funding was used to provide a "clinical champion" – someone who could give promotional and educational support to general practices, help general practices to prepare their IT infrastructure, and install software if required. General practices had to pay for the patient portal software, though sometimes PHOs funded the purchase. We were told that funding patient portals remains a significant barrier for some general practices.
3.14
To address doctors' concerns about the effect of patient portals on their costs and revenue, Patients First, on behalf of the Ministry, commissioned a research firm to carry out financial and business modelling. The research found that patient portals could have potential benefits for a general practice because they reduced administrative tasks, leaving staff free to do other work. The group's research is available on the Ministry's website, along with a link to a financial modelling tool that allows general practices to examine the financial effect of offering a patient portal.
Guidelines for using patient portals
3.15
Some health sector organisations prepared, either separately or in collaboration with the Ministry, guidelines for using patient portals. For example, in April 2015 the Ministry and the College of GPs produced guidelines on subjects such as privacy and security of people's health information and provided examples of mapping workflow processes to help general practices understand a patient portal's effect.2
3.16
Staff from the College of GPs said producing these guidelines was a "very collaborative effort". The guidelines are available on the Ministry's website.3
3.17
A PHO called Compass Health also prepared guidelines, which are available on the Ministry's website.4 The guidelines were for general practices using or thinking of using the ManageMyHealth patient portal system. They provide advice about business and financial considerations, and include a section that can be used as a training manual for staff.
eHealth ambassadors
3.18
The Ministry appointed eHealth ambassadors to promote patient portals, raise awareness and interest among doctors, answer concerns, and provide guidance and support to general practices that established their own patient portals.
3.19
A review of patient portals by Patients First in September 2014 said that its panel supported having ambassadors "who promote the use and uptake of portals through their own stories and experiences (good and bad)". In our view, this was a good initiative.
3.20
The eHealth ambassadors we spoke with seemed happy with how the programme initially worked. However, they said that they now had little or no contact with the Ministry. Some continued to provide advice at conferences and other forums but they no longer felt like they were part of a larger initiative. Instead, it was up to the ambassadors individually whether they continued to take part in the programme.
3.21
The Ministry told us that it highly regarded the work the eHealth ambassadors have done and is continuing to use their advice and support (see paragraph 4.30). The eHealth ambassadors are still listed on the Ministry's website, and the Ministry can put people in touch with them if requested.
Awareness campaigns
3.22
The Ministry ran campaigns to raise awareness about patient portals. The first awareness campaign ran from April 2015 until December 2015 and included magazine advertisements and a website where people could register their interest in a patient portal.
3.23
A second campaign ran between April and June 2016 and focused on promoting patient portals to parents and elderly people. The campaign aimed to drive traffic to the patient portal website.5 As part of this campaign, the Ministry added an interactive map to this website that allowed people to see whether their general practice offered a patient portal service. People could send an anonymous email to their general practice requesting it to offer a patient portal if it did not already do so.
3.24
As part of the campaigns, the Ministry also prepared promotional resources in collaboration with PHOs and the eHealth ambassadors to increase doctors' support for patient portals. These resources included posters, brochures, videos, and microsites.
Providing continued advice and support
3.25
We expected the Ministry to continue to provide advice and support for the ongoing implementation of patient portals.
3.26
Some of the people we spoke with felt that the Ministry was no longer doing much to support the implementation of patient portals. However, we found that the Ministry, in collaboration with some health sector organisations, was continuing to provide advice and support.
3.27
In May 2017, the College of GPs released guidance on how young people can get access to a patient portal. The guidance was prepared in collaboration with the Ministry, the Office of the Privacy Commissioner, the consumer panel, doctors, and IT vendors. It was available only to the College of GPs' members. The Ministry's website provided a link to the College of GPs' website. During our audit, several interviewees had raised issues they had about young people and patient portals. This suggested that the guidance would meet a significant need.
3.28
The Ministry had been doing other work that should help address doctors' concerns and contribute to the uptake of patient portals. For example, the Ministry has worked on Health Information Governance Guidelines (see paragraphs 5.17-5.20) and a "system-level measures framework".
System-level measures framework
3.29
System-level measures are high-level goals for the health sector that align with the five strategic themes of the New Zealand Health Strategy 2016 and other national strategic priorities, such as Better Public Service targets.
3.30
The measures focus on helping children, youth, and vulnerable populations. They promote better understanding and use of health information, involving people in the design and delivery of health services, and better health investment in models of care based on local population needs.
3.31
The Ministry worked closely with the health sector to prepare six measures. Some examples include:
reducing hospital admission rates for children aged 0-4 years old;
reducing how long people stayed in hospital; and
reducing amenable mortality.6
3.32
Another measure is patient experience of care.
3.33
Each system-level measure has several contributory measures that are tracked over time. The contributory measures for patient experience of care include:
general practices offering a patient portal; and
people who are registered to use a patient portal.
3.34
The system-level measures are part of the DHBs' annual planning process and provide an opportunity for DHBs to work with their primary, secondary, and community care providers to improve the health outcomes of their local population. DHBs and PHOs need to work through these district alliances to ensure that these measures are implemented.
3.35
One doctor we spoke to described using patient portals as a contributory measure for patient experience of care as a "very clever" way to increase the number of general practices offering patient portals. We agree.
Uptake of patient portals has increased
3.36
Interviewees told us it required a lot of effort from all staff in the general practice to get people signed up and using the patient portal.
3.37
International evidence suggests that general practices are doing well if they can get 25% of their patients signed up to use patient portals.
3.38
As at March 2017, the number of general practices offering patient portals represented just over 50% of general practices and the number of people registered to use them represented about 9% of patients over the age of 18.
3.39
Nearly two-thirds of general practices started offering patient portals after June 2015. Figure 2 shows the increase in the availability of patient portals, and the number of people registered to use them, from March 2014 to March 2017.
Figure 2
Number of general practices offering patient portals and patients over 18 registered to use patient portals, from March 2014 to March 2017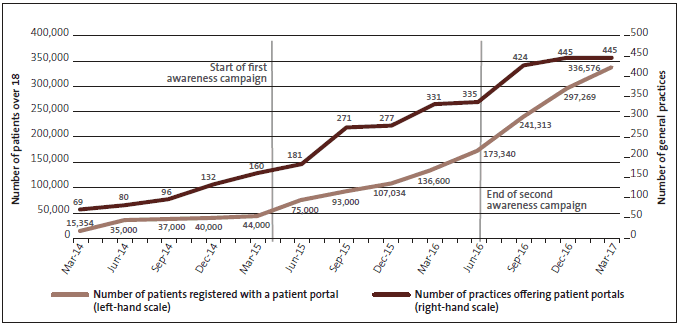 Source: Ministry of Health website.
3.40
In our view, working effectively with the health sector, including identifying and addressing barriers to using patient portals, contributed to the increase in uptake of patient portals since June 2015.
---
2: The Royal New Zealand College of General Practitioners and the Ministry of Health's National IT Board, Patient Portals: Practical guidelines for implementation, April 2015.
3: See health.govt.nz.
4: Compass Health (2016), Health care online: start-up guide for general practice.
5: See patientportals.co.nz.
6: Amenable mortality is premature death that could potentially have been prevented, given effective and timely healthcare.