Part 5: Crown Fibre's limited role in broadband uptake
Crown Fibre Holdings Limited: Managing the first phase of rolling out ultra-fast broadband.
5.1
In this Part, we discuss Crown Fibre's limited role in supporting and encouraging people to connect their homes or businesses to the ultra-fast broadband network available in their streets. The demand for these connections is called "uptake".
5.2
The demand for, use of, and provision of internet services to residential premises is an arrangement between the public and internet service providers. Internet service providers market products to existing and potential customers and lead other initiatives to increase uptake. These providers negotiate with network owners to use the fibre-optic cable network.
5.3
Connecting the fibre-optic cable from the street to the home is the final part of delivering ultra-fast broadband to the public. This last part of the connection is also a private-sector arrangement. It does not involve government funding and is not a direct responsibility of Crown Fibre.
5.4
However, Crown Fibre monitors the aggregate performance of the commercial partners' timeliness in making these connections. This monitoring uses information from Service Level Agreements between the commercial partners and various internet service providers.
5.5
Uptake is critical to achieving the intended economic and social benefits from ultra-fast broadband. The network risks being unused and ineffective if the public cannot (or does not) connect to it.
Summary of our findings
5.6
Crown Fibre's role in uptake is limited to one of support and encouragement. Crown Fibre understands its role and helps others understand it also. Crown Fibre plays its role well by co-ordinating efforts with other organisations that lead initiatives to drive uptake.
5.7
Uptake rates are increasing, and this looks likely to continue. However, people from various organisations and backgrounds told us that they think many New Zealand businesspeople do not fully understand how ultra-fast broadband can help them improve their businesses.
5.8
The people we spoke to believe there is a need to improve businesses' awareness of the available opportunities. The Ministry of Business, Innovation and Employment's Digital Economy Work Programme is looking at ways to help New Zealanders embrace the wider benefits of digital technology. In the longer term, work from this programme will help to improve businesses' awareness of ultra-fast broadband opportunities and help achieve the intended social and economic benefits from ultra-fast broadband.
Connections are in line with expectations
5.9
Crown Fibre measures the number of "end-users" able to connect against the number of actual connections. It can also track progress against predictions. Actual connections are a good indicator of uptake, but they do not reflect uptake in real time because there can be delays between requests for service and actual connection, and there can also be some cancellations of service requests. To accurately indicate uptake rates, connections need to keep pace with demand.
5.10
An independent technology research firm that tracks the New Zealand telecommunications and information technology services markets measured about 163,000 ultra-fast broadband connections at the end of December 2015. It forecast that the number of ultra-fast broadband connections will almost double, to just under 300,000 households and businesses, by the end of 2016. Household and business uptake is forecast to reach 700,000 premises by the end of 2019. This 2019 total would represent an overall uptake rate of 52% of what is possible (that is, 1,340,000 potential connections to households and businesses).
5.11
Figure 5 shows the increasing growth in connections by financial year, as an indicator of the growth in uptake.
Figure 5
Cumulative number of households and businesses actually connected to ultra-fast broadband, 2011/12 to 2014/15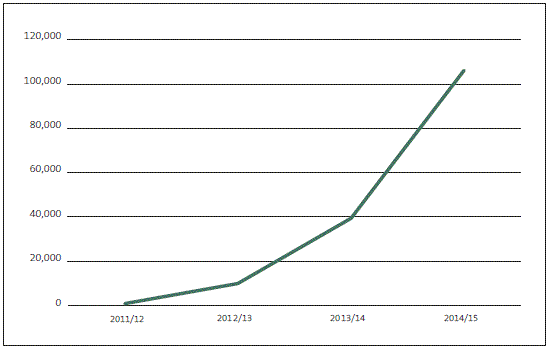 Source: Crown Fibre Holdings Limited.
5.12
Connections continue to grow rapidly. As at the end of the latest quarter (March 2016), the total number of end-users actually connected exceeded 196,000.
5.13
Crown Fibre told us that the need to proactively drive uptake will lessen as uptake grows of its own accord. Crown Fibre expects the public to adopt the technology more as they hear and understand more about it. Figure 6 shows a likely uptake pattern as the number of early adopters increases and technology appeals more in the mass market.
Figure 6
Innovation adoption curve, by adopter categories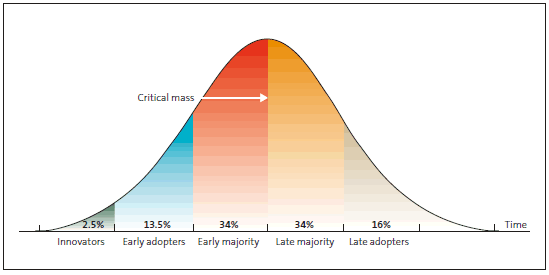 Crown Fibre understands its role
5.14
Crown Fibre's role in uptake is limited to support and encouragement. This is a separate responsibility from Crown Fibre's oversight of the roll-out and the performance of the commercial partners. We discuss it here because uptake is important to achieving the expected benefits of rolling out an ultra-fast broadband network.
5.15
In our view, Crown Fibre does support and encourage uptake. It has attended local roll-out milestone events and helped encourage businesspeople who are already (or who intend to be) connected to the network. Crown Fibre has also been available to residential users at these events, although this kind of interaction is more the role of internet service providers.
5.16
We also saw examples of Crown Fibre informing groups of priority users about the benefits of ultra-fast broadband. Crown Fibre gave presentations at roadshows to advise people of the potential benefit of broadband fibre to the way they operate. Crown Fibre backed these messages up with information on international roll-out experiences in comparable countries.
5.17
Crown Fibre has scaled back its involvement with uptake activities. This is a sensible response to the current high growth and acceleration of uptake. However, Crown Fibre still participates in uptake activities led by others, when it can contribute effectively.
Crown Fibre monitors connection rates
5.18
As well as supporting and encouraging uptake, Crown Fibre monitors connection rates to provide assurance that the rate at which residential premises are connected to the network keeps pace with demand.
5.19
The commercial partners have entered into Service Level Agreements with internet service providers. Service Level Agreements define the performance expectations for the time taken to connect new users to the network and to fix faults for customers. They also measure the network's performance and availability.
5.20
The commercial partners are motivated to ensure that connections keep pace with uptake because internet service providers can apply for a rebate from the commercial partners if Service Level Agreements are not met.
5.21
Under its contracts with the commercial partners, Crown Fibre monitors the commercial partners' aggregate performance against all the Service Level Agreements. Crown Fibre reports aggregate Service Level Agreement performance in its annual report. Crown Fibre can also inform Ministers of the end-user's experience of connection time frames and network service performance.
Crown Fibre and its commercial partners understand Crown Fibre's role in uptake, but the wider industry is less clear
5.22
Crown Fibre has always clearly understood its role in uptake. Crown Fibre people clearly told us that it is a supportive and encouraging role, not a leadership role.
5.23
Crown Fibre's role in uptake is also clear to the commercial partners. Commercial partners are the eventual network owners, and connections represent their future income. Commercial partners have a more direct role in leading work with internet service providers to encourage uptake. They have sometimes asked Crown Fibre to play a supporting role in local celebrations of roll-out milestones. That the commercial partners are leading these events and Crown Fibre is supporting them shows a common understanding of Crown Fibre's role.
5.24
The understanding in the wider telecommunications industry (including internet service providers and user interest groups) seems less clear. Some people told us of internet service providers' approaches to Crown Fibre about uptake activities that suggest a lack of understanding of Crown Fibre's role. Crown Fibre's visible work with priority users in the preparatory and early stages of the roll-out might have suggested a more extensive role than Crown Fibre has.
5.25
Crown Fibre's role in uptake was clarified by the Policy Minister to the New Zealand Telecommunications Forum in response to a request from the industry. The organisation was asked to share the clarification with its industry members. This lack of clarity is not unduly diverting Crown Fibre from its role or affecting the roll-out.
The gap in business awareness of ultra-fast broadband opportunities
5.26
Some people we interviewed told us that some parts of the business sector lacked awareness of how ultra-fast broadband and other technology could benefit their businesses. The Government has recognised the wider need to enhance public education on the benefits of digital technology (of which ultra-fast broadband is a part), and we are encouraged by the planning work under way to do so.
5.27
The economic and social benefits of ultra-fast broadband were factors in the Government's commitment to the ultra-fast broadband initiative. Ensuring these outcomes is not Crown Fibre's responsibility, and the intended benefits were not originally in the scope of our audit work. However, we saw a gap that puts these intended benefits at risk.
5.28
People we spoke to felt that many businesspeople did not know where to get information or advice on the possibilities the new technology offers. In our view, the benefits are likely to be maximised only if the people running businesses understand how ultra-fast broadband can help them improve their operations – changing how they operate, not just operating faster.
5.29
We spoke to people at the Ministry of Business, Innovation and Employment who are involved in a programme called Digital Economy Work Programme. Part of that programme is looking at ways to address the lack of business understanding of the improvement opportunities that new and emerging digital technologies can offer.
5.30
The Digital Economy Work Programme seeks to ensure that the Government is collectively focused on initiatives to support digital technology use by businesses, individuals, and the public sector. It has identified ways of working to help bridge the gap in getting significant existing information to the business sector:
working with the telecommunications and technology industries (including internet service providers) and business associations;
identifying the drivers and characteristics of particular business types and tailoring education approaches to business sectors;
recognising that working with business intermediaries and associations is critical; and
encouraging regional ownership of education within a consistent framework. This includes using education material from overseas, which the Ministry of Business, Innovation and Employment intends to customise to New Zealand's business needs.
5.31
There is a long way to go to put this planning into action. Our discussions with people at the Ministry were encouraging. The work they are doing on the wider theme of digital technology will help address the business education gap on ultra-fast broadband. We support continuing the work done in the last 18 months to find ways to get information to those who need it. Progress towards addressing the business education and awareness gap in digital technology is important if the outcome sought is to be achieved.