Part 1: Context for our future needs
Reflections from our audits: Our future needs - is the public sector ready?
The New Zealand context – what the public sector needs to be ready for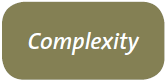 1.1
In this Part, we provide a brief snapshot of the complex matters facing New Zealand and, therefore, the public sector. Change and the increasing pace of that change are real and unavoidable. The public sector must plan for it and be ready and able to embrace the unexpected.
1.2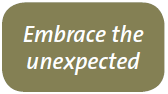 Figure 1, which appeared in our June 2013 report Public sector financial sustainability, is an example of one way to show the interdependency of social, environmental, and economic factors.
Figure 1
One way of displaying indicators of a community–s well-being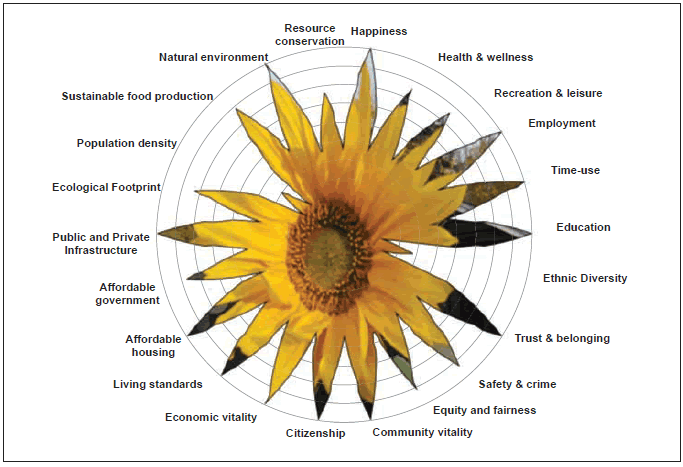 Source: Anielski, M. (2006), City of Leduc 2005 Genuine Well-being Report, available at www.anielski.com.
1.3
We have used some headings from Figure 1 to provide some context about what the public sector needs to be ready for.
Economic vitality
1.4
Although New Zealand escaped the worst of the global financial crisis, the subsequent recession reduced private and public wealth and income. We have also seen the effect on our economy of other shocks caused by natural disasters, most notably the Canterbury earthquakes. We can no longer afford to view such shocks as unlikely.
Ecological footprint
1.5
New Zealand has one of the world–s largest exclusive economic zones and is highly ranked in terms of water availability and protected land, grasslands, and forests. However, New Zealand's renewable resource capacity per person is reducing, and our surplus capacity is expected to halve in the next 40 years if current trends continue.
Living standards
1.6
New Zealanders have spent more than they have earned for all but four of the last 55 years, as measured by the current account deficit. In the last 30 years, we have fallen from being among the most equal countries in the Organisation for Economic Co-operation and Development in terms of market income. We have high rates of youth suicide, teenage fertility, and youth unemployment.
Education
1.7
Of concern is Māori educational achievement. Māori make up 15% of our total population. In 2012, about 30% of Māori students left school with no qualifications at any level. They made up more than 40% of the total number of students leaving school who were halfway or less towards achieving a Level 1 NCEA qualification.
1.8
Also of concern is the large number of prisoners (about 71%), who have difficulty reading and writing. Poor literacy affects prisoners' educational achievements, job prospects, and well-being. Research shows that helping prisoners to reintegrate into the community by giving them opportunities to learn valuable skills and achieve nationally recognised qualifications, helping them to find sustainable work after release, means they are less likely to reoffend.
Population density
1.9
Older people make up an increasing proportion of the population in all regions (except Auckland) and the pace of this change has increased. This structural demographic change means the proportion of working-age people in the New Zealand population is decreasing permanently. The older population is expected to continue to be dominated by people identifying as "European" or "New Zealander", although their share of this age group will decrease.
1.10
The Treasury projects that pension costs will grow while a decreasing number of working-age people will be supporting those over the age of 65 – a group that will double as a proportion of the population (from 13% to 26%) during the next 50 years.1 Health spending, not related solely to the ageing population, is growing faster than the growth of gross domestic product (GDP). Real financial pressure is emerging from problems related to health and lifestyle, such as obesity and diabetes.
Affordable government
1.11
Our public sector has a solid reputation for innovation and excellence, and public sector net indebtedness is relatively low. The Government's net external debt hovered around 10% of GDP from 2000 until 2008. However, because of the global recession and Canterbury earthquakes, net debt has since grown to 26% of GDP.
1.12
Factors affecting the long-term financial sustainability of local authorities include expected changes in population and land use, and expected capital expenditure. The income and wealth of businesses and households and the availability and affordability of housing affect the ability of citizens to pay rates and other charges.
1.13
Rates are forecast to increase at an average of 5% every year from 2012 to 2022. Overall, rates are forecast to increase relative to the underlying index of consumer costs but decrease relative to overall income growth (as measured by GDP).
Public infrastructure
1.14
Local authorities– forecast capital expenditure for the 10 years from 2012 to 2022 is $37 billion. Of this, 59% is to meet increasing demand (often as a result of growth) or to improve levels of service.
1.15
Local authorities face increased spending to meet regulatory standards (for example, water supply standards), community expectations about levels of service, and changes in population and land use. Local authorities have to balance these demands against what is reasonably affordable for their communities.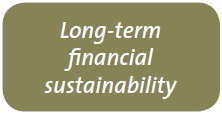 1.16
Debt is forecast to nearly double during the next 10 years as local authorities use debt to fund long-life assets. The gross debt for local authorities is forecast to increase from $9.8 billion in 2011/12 to $18.7 billion by 2021/22. The Auckland Council's group debt, which was $4.8 billion in 2011/12 and is forecast to reach $12.5 billion in 2021/22, significantly affects total gross debt.
1.17
In the rest of the public sector, significant investment in infrastructure is under way or planned – for example, major road projects, broadband rollout, and the Christchurch rebuild.
Making observations about public sector readiness
1.18
This brief snapshot is indicative and does not purport to be comprehensive. However, it is clear that New Zealand – and, therefore, the public sector – face some complex problems. Fortunately, we have some good foundations underpinning our public management. But will that be enough?
1.19
The rest of this report discusses how prepared the public sector is for some of the challenges ahead. We have grouped our observations under these headings:
1.20 The Appendix provides a list of our reports published between June 2012 and December 2013. We drew our observations for this report from that body of work, as well as from all of our other audit and assurance work during 2012/13 and the first half of the current financial year.
---
1: Statistics New Zealand (2012), National population projections 2011-2061.