Part 1: Overview of the health sector
Health sector: Results of the 2011/12 audits.
1.1
In this Part, we describe the health sector's operating environment, structural changes in the health sector, and the district health board (DHB) environment, including regionalisation and shared services.
The health sector's operating environment
1.2
New Zealand's health and disability services are delivered through a complex network of organisations. The devolved nature of the system means that responsibility and authority for funding and exists at national, regional, and local levels. Figure 1 shows the structure of the New Zealand health and disability sector.
1.3
The Government has budgeted more than $14 billion1 (in Vote Health) for health spending in 2012/13. Health spending is the largest area of public spending on services. Public health spending has increased substantially over the years, both in actual dollars and as a percentage of gross domestic product (GDP), from around 3% of GDP in 1950 to 6.6% in 2011.
1.4
Despite the increased funding, our public health system continues to face significant challenges, including:
meeting the needs of our ageing population and a rising prevalence of long-term and chronic conditions;
responding to increasing demand for services and access to improved technologies;
reducing disparities in health outcomes for Māori and other population groups;
supporting vulnerable children; and
maintaining and developing the health workforce, including attracting and retaining hospital specialists, and ensuring that the workforce evolves to support future models of care and service innovations.
1.5
The Government expects the health sector to continue to provide New Zealanders with high quality health care and lift health outcomes, while ensuring that our health system is sustainable over the long term. There is continued pressure for increased efficiency and reduced costs.
1.6
The Government aims to return to surplus in 2014/15, and it has indicated that it is unlikely that health spending can continue to increase at the rates of past years. It expects the sector to contribute by lifting productivity and improving financial performance each year. DHBs are expected to reduce deficits and break even.
Figure 1
Structure of the New Zealand health and disability sector
Source: Ministry of Health.
1.7
Increased efficiencies and sector savings are expected from DHBs focusing more strongly on service integration, both within their districts (for example, with community primary care) and by collaborating with other DHBs. Regional collaboration and national initiatives, such as those led by Health Benefits Limited (HBL), are intended to achieve costs savings for the sector. HBL is a Crown-owned company, and has a target of $700 million of savings for the sector over five years (see Part 4).
1.8
The Government continues to focus on lifting performance against the six national health targets. The health targets are national performance measures designed to improve performance in targeted service areas, such as shorter waits for cancer treatment and more heart and diabetes checks.2
1.9
As well as these targets, one of the Government's 10 key results for the public sector to achieve during the next five years (announced in June 2012) is a particular focus for the health sector and DHBs. That result is to "increase infant immunisation rates and reduce the incidence of rheumatic fever".
1.10
The Ministry of Health (the Ministry) is the Government's principal advisor on health policy and has overall responsibility for the health and disability sector. The Ministry allocates about $10.5 billion to DHBs to spend on public health services in their districts, including public hospitals and primary health care.
1.11
The Ministry directly purchases just under $2.8 billion of health and disability services (for example, national Māori health, child health, mental health, and maternity services). The Ministry also manages the national planning and funding of information technology (IT), workforce planning, and capital investment in DHBs. DHBs also carry out local and regional planning and management in these areas.
Structural change in the health sector
1.12
A number of advisory committees and bodies have been set up or reconstituted in recent years to work with the Ministry to lead improvements in the health and disability system, including:
the National Health Board, for whole-of-system planning and advice;
Health Workforce New Zealand, for health workforce planning;
the IT Health Board, for IT investment;
the National Health Committee, for the evaluation of technology investment options; and
the Capital Investment Committee, for capital investment decision-making.
1.13
HBL was set up in 2010 to lead DHB shared services and joint procurement, and the Health Quality and Safety Commission was set up to improve service quality and safety.
1.14
Four Crown entities were disestablished with effect from 1 July 2012 – the Crown Health Financing Agency, the Mental Health Commission, the Alcohol Advisory Council of New Zealand, and the Health Sponsorship Council. The functions of the latter two entities were taken over by the new Health Promotion Agency established on 1 July 2012. The functions of the Crown Health Financing Agency and Mental Health Commission were, in the main, taken over by the Ministry. We discuss our final audits of these disestablished entities in Part 2.
1.15
The Pharmaceutical Management Agency (Pharmac) is the Crown entity that decides, on behalf of DHBs, which medicines and related products are subsidised for use in the community and public hospitals. The role of Pharmac continues to expand – for example, by taking on responsibility for managing all medicines used in hospital medicines and medical devices.
1.16
In June 2012, the four largest DHBs – Auckland, Counties Manukau, Waitemata, and Canterbury – set up the New Zealand Health Innovation Hub to collaboratively fast-track new health technologies and service innovations. The Hub is jointly owned by the four DHBs.
District health board environment
1.17
DHBs are responsible for identifying and providing for the health needs of their district. Their funding is largely based on the population of their respective districts. Figure 2 shows each DHB's population at December 2012 and the Vote Health funding for each DHB3 in 2011/12 and 2012/13, grouped by the four regions. The four largest DHBs were each allocated funding of more than $1 billion for 2012/13.
Figure 2
Population of district health boards (2012/13 estimates), and funding for 2011/12 and 2012/13
District health board
Population*
2012/13 Budget funding**
$million
2011/12 estimated actual funding**
$million
All DHBs
4,465,835
10,819
10,500
Northern Region
Auckland
465,965
1,022.8
992.3
Counties Manukau
512,885
1,172.6
1,122.0
Northland
159,630
461.0
448.1
Waitemata
558,010
1,215.0
1,173.8
Totals
1,696,490
3,871.4
3,736.2
Midland Region
Bay of Plenty
215,440
583.0
567.7
Lakes
103,340
266.9
259.9
Tairawhiti
46,648
135.8
133.9
Taranaki
110,138
290.5
282.6
Waikato
371,540
952.1
918.9
Totals
847,106
2,228.3
2,163.0
Central Region
Capital and Coast
299,025
640.0
623.5
Hutt Valley
144,865
341.6
333.3
Wairarapa
40,630
115.7
112.6
Hawke's Bay
156,430
418.1
401.8
MidCentral
170,095
439.2
424.8
Whanganui
62,853
195.4
191.2
Totals
873,898
2,150.0
2,087.2
South Island Region
Canterbury
509,670
1,199.7
1,179.1
Nelson Marlborough
141,248
357.3
345.8
South Canterbury
56,420
156.1
152.7
Southern
308,133
741.7
723.0
West Coast
32,870
114.5
113.0
Totals
1,048,341
2,569.3
2,513.6
* Ministry of Health, My DHB, www.mydhb.health.govt.nz.
** The Estimates of Appropriations 2012/13, Vote Health, pages 128 to 130.
Regionalisation
1.18
A 2010 amendment to the New Zealand Public Health and Disability Act 2000 required DHBs to collaborate at local, regional, and national levels for the most effective and efficient delivery of health services to meet local, regional, and national needs.
1.19
DHBs are required to prepare an annual plan and collaborate with other DHBs in their region to produce regional plans for health services and resourcing. This regional planning is reflected in the annual plans of DHBs. This year, 2012/13, is the second full year of regional service plans, and there is increasing emphasis on developing clinical service models, addressing vulnerable services, and capital investment planning in a regional context. Regions are also more focused on shared services.
1.20
We are currently carrying out a performance audit on how DHBs' capital investment aligns with regional service planning and is guided by high quality information about future needs.
1.21
Individual DHBs are held accountable for delivering services. There are still no formal mechanisms for public accountability across entities or regions (for example, collective reporting against regional plans). A DHB can be held to account for its regional responsibilities only to the extent that regional planning is reflected in its annual plan.
1.22
In our view, it is important that accountability arrangements in the health sector keep pace with the regionalisation of planning and delivery of services. We will continue to discuss with interested parties how the sector can best be held to account for effective delivery of health services in an increasingly regionalised and nationalised system and inter-agency environment.
1.23
We will also continue to consider our auditing approach for DHBs in an increasingly regional and sub-regional (see Figure 3) environment.
Figure 3
Sub-regional arrangements
Sub-regional arrangements within some regions are becoming more established as DHBs work more closely together to address service and financial pressures:
Collaborative governance and management arrangements between Canterbury and West Coast DHBs include shared Board members and a joint Chief Executive Officer since July 2010.
Three DHBs in the Central Region – Capital and Coast, Hutt Valley, and Wairarapa – continue to work closely together as a sub-region. The three DHBs recently merged planning and funding functions into a single Service Integration and Development Unit. Joint management appointments were made for two of the DHBs (Wairarapa and Hutt Valley), including the appointment of a joint Chief Executive Officer. In 2012, the three DHBs prepared a "3 DHB" plan to achieve a joint net break-even financial result for 2013/14 and the following years.*
* Health Partners Consulting Group Limited, Achieving a 3 DHB Net Break-even Result: a plan outline as requested by the Minister of Health, September 2012.
1.24
Figure 4 provides an overview of the regional structure of DHBs and the agencies jointly owned by DHBs to deliver shared services.
Figure 4
Regional structure of district health boards and the agencies jointly owned by district health boards to deliver shared services, as at 30 June 2012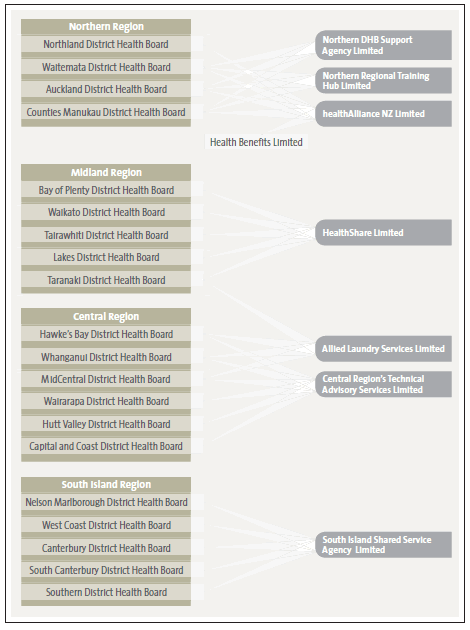 Shared services
1.25
There has been more regional and national collaboration on DHB shared services as the sector seeks efficiencies and cost savings. Figure 3 shows the jointly owned DHB shared service providers for the four regions. HBL is also leading national initiatives for shared service arrangements and initiatives throughout DHBs. We discuss HBL in Part 4.
1.26
Shared service agencies in the sector have continued to evolve – for example, by taking on expanded roles and functions. There have also been structural changes:
In the Northern Region, healthAlliance N.Z. Limited (healthAlliance) was set up in July 2000 as a joint venture between Counties Manukau and Waitemata DHBs. Its scope and ownership was changed in March 2011, and it is now jointly owned by the four northern DHBs and HBL.
In the Central Region, the former activities of District Health Boards New Zealand (DHBNZ) were subsumed into Central Region's Technical Advisory Services Limited (TAS), with effect from 1 September 2011. DHBNZ's functions were rebranded as District Health Board Shared Services (DHBSS), which is now a distinct unit in the new TAS.
From 1 December 2011, South Island Shared Services Agency Limited ceased operating (and is a dormant company). Its operations and staff were transferred to Canterbury DHB and are now managed under the South Island Alliance Programme Office for the South Island DHBs.
1.27
We report our audit results for the regional shared services agencies in paragraphs 2.59-2.77.
---
1: The Budget included total appropriations of $14.125 billion in Vote Health for 2012/13.
2: For more information about the health targets, see the Ministry of Health's website, www.health.govt.nz.
3: These figures do not represent total income for DHBs because they receive other revenue (for example, from the Accident Compensation Corporation and other DHBs for health services).
page top