Part 4: Core funding and performance against statements of core purpose
Crown Research Institutes: Results of the 2011/12 audits.
4.1
We are not required to audit the performance information of CRIs, only to attest that reporting requirements have been met. In this Part, we examine how:
the CRIs have met the requirements for reporting against their SCIs;
those reports reflect the SCPs; and
CRIs report on their use of the core funding to achieve the core purpose.
4.2
We have not reviewed impact and output reporting generally or compared the quality of reporting with previous years. We have focused on the reporting as it reflects the new SCPs.
Reporting requirements
4.3
Under the CRI Act, the CRIs are required to report against their SCIs. This reporting focuses on a set of financial indicators agreed with Ministers. CRIs are also now required to report on their progress towards their SCP outcomes.
4.4
The new accountability and reporting requirements for CRIs were introduced in response to the Crown Research Institute Taskforce's report. Each CRI now has an SCP that outlines the purpose, outcomes, scope of operation, and operating principles for each CRI. The SCPs are expected to be enduring, with a 10- to 15-year life span. They are to be reflected in each CRI's annual SCI. The SCI is an outline of the CRI's five-year strategy and how that strategy will contribute to the CRI's outcomes. The SCI also includes a performance framework for measuring and assessing progress.
4.5
MBIE now expects CRIs to report not only on financial viability but also on a range of science and innovation indicators for CRI impacts.
4.6
The new performance framework sets out what resources a CRI will use, the activities it will carry out (outputs), the difference it will make (impacts), and its contribution to goals for New Zealand (its own and CRI outcomes).26
4.7
We expect public entities to tell their own performance story, clearly articulating what they are doing and how this affects outcomes. For CRIs, this would include SCP outcomes, as reflected in the SCIs.
Were reporting requirements met?
Were statement of core purpose outcomes reflected in the statement of corporate intent?
4.8
We reviewed the SCIs for 2011-16 and found that all CRIs had included the outcomes that are set out in their SCPs.
Were statement of core purpose outcomes reflected in the annual report?
4.9
We also reviewed the annual reports of CRIs to see whether CRIs have reflected their SCP outcomes in their annual reports. Five CRIs had disclosed their SCP outcomes in their annual reports. However, for four of those CRIs, their outcomes were not well linked to the rest of the reported performance. Three CRIs had not mentioned the SCP outcomes at all.
4.10
Overall, the reported performance in the annual reports for CRIs is not strongly linked to the SCP outcomes. In our view, the CRIs are making progress but need to do more to ensure that the standard of performance reporting is adequate to tell the reader how well CRIs are achieving their SCP outcomes.
Measures and trends
4.11
The goal in a performance story is to give a clear picture of the actual performance compared to intended performance. This is why specific measures of outcomes are important, together with targets. Establishing a good performance framework for measuring and assessing progress is important for providing an informative report of performance to stakeholders, as well as having a tool that is embedded into everyday management. The CRI toolkit27 specifies that the Board is responsible for holding management responsible for meeting the performance measures/milestones in the SCI and business plan.
Measures included in statements of corporate intent
4.12
All CRIs had some measures for assessing outcomes. However, we noted that the measures were of variable quality and it was not always clear what was being measured and how that would show whether the outcome was being met.
4.13
Some of the issues we noted were:
outcome/impact measures that were based on CRI outcome goals (or other outcome areas), which were different from, and not linked to, the SCP outcomes;
outcome/impact measures based on business centres rather than SCP outcomes, which means that key performance indicators (KPIs) do not directly correlate to outcomes, making it difficult to see a clear performance story;
vague measures (for example, measured by client satisfaction surveys) that do not articulate the specific measure or target or desired progress; and
measures that are based on activities or outputs rather than being measures of outcomes (for example, an outcome that is measured by publications achieved). This does not show how the outcome is being achieved.
4.14
In one of the better examples, from ESR's 2011-16 SCI, the outcome is to "Improve the safety of freshwater and groundwater resources for human use and the safer use of biowastes". The related impact measure is "Increased use of biowastes as a resource not a waste measured by the number of communities adopting biowaste reuse initiatives".
Annual report against the measures of core purpose outcomes
4.15
Only Landcare Research had reported against the outcome/impact measures set out in its 2011-16 SCI for core purpose outcomes. Using the framework set out in its 2011-16 SCI, Landcare Research reported progress against its SCP outcomes in its annual report for 2011/12, using KPIs for each impact. It then discussed the highlights achieved during the year that related to each specific outcome/impact. Outcomes, impacts, and the initiatives that related to them were clearly linked, so the reader could see how Landcare Research's activities were intended to affect national outcomes and what progress had been made. Landcare Research could further improve its reporting by including measures of the outcome KPIs and providing, over time, some trend data.
4.16
In comparison, most of the other CRIs had a lot of information on their main innovations, achievements, programmes, or projects and might have loosely linked these to overall outcomes. However, they did not report any results against the SCP outcome measures included in their SCI. This makes it difficult for the reader to see whether the CRI achieved what it intended to achieve. We will discuss the quality of performance reporting with the CRIs and MBIE and encourage them to make improvements.
Use of core funding
4.17
CRIs receive core funding to enable them to address the outcomes sought under their SCPs. MBIE – Science, Skills and Innovation Group will co-ordinate in-depth reviews of each CRI by an independent panel of New Zealand and international experts at least once every five years. The panel will assess and report on the CRI's contribution towards achieving its outcomes and company performance.28
4.18
This includes reporting against the core funding that was introduced in the 2011 Budget, which was intended to support each CRI to fulfil its core purpose and to contribute to the outcomes set out in its SCP. Figure 8 shows a breakdown of core funding for CRIs for 2011/12.
Figure 8
Breakdown of core funding for 2011/12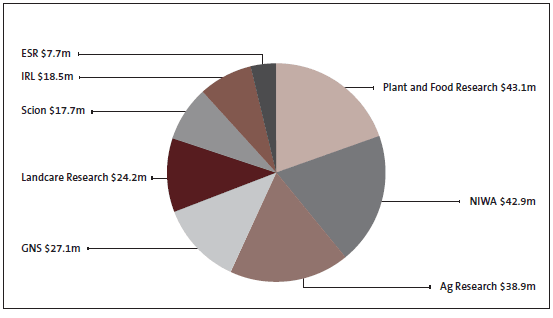 Source: Response to 2011/12 Estimates Vote Science and Innovation, Post hearing questions, Question 122.
4.19
Each CRI's Board is responsible for deciding how to invest its core funding and is accountable for the CRI's success in fulfilling its core purpose, carrying out its strategy, and achieving its SCP outcomes.
4.20
Both NIWA and Plant and Food Research have clearly reported how they have invested their core funding for 2011/12. In their annual reports, they have used tables to show achievements for each core funded component, the amount of core funding spent on that component, and which SCP outcome the achievements have contributed towards.
4.21
CRIs could further improve their reporting by also disclosing the results of actual performance against outcome measures in this context. Over time, this would allow readers to see whether the achievements and core funding spent are affecting the overall outcomes.
4.22
In general, CRIs need to improve how they report achievements against SCP outcomes. This is an essential part of their accountability to their sector groups and to the Government.
---
26: Ministry of Science and Innovation (2012), Guidance for CRI Statements of Corporate Intent, Wellington, page 6.
27: The CRI toolkit contains information and guidance for CRI board members, managers, and staff. It is available on MBIE's science and innovation website, www.msi.govt.nz.
28: Response to 2011/12 Estimates Vote Science and Innovation, Post hearing questions, Question 130.
page top