Part 2: Surveillance
Ministry for Primary Industries: Preparing for and responding to biosecurity incursions.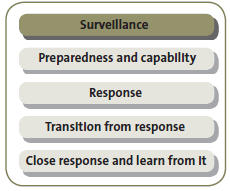 2.1
In this Part, we discuss the Ministry's work on surveillance. We set out:
Summary
2.2
The surveillance strategy has not been effectively implemented because it was too ambitious and investment in it has resulted in poor value for money. This has led to response partners' poor perception of the Ministry's ability to deliver. A review in 2002 also identified that the Ministry needed to measure the effectiveness of its surveillance activities, but this has not been achieved.
2.3
Despite a poor strategic approach, the surveillance team has made some progress. It has delivered several discrete and focused pieces of work that are useful and add to the Ministry's capability.4 A new approach to surveillance procurement is starting to show benefits. Because there are not enough resources available to do all that is required, the Ministry has created a simple way of prioritising surveillance activities, which should help make decision-making more consistent.
2.4
The expectations of the 2003 biosecurity strategy, that the public would be aware of and take part in biosecurity, remain relevant. Public awareness of biosecurity needs constant reinforcing and some work is under way to improve public reporting. However, there is a risk that the benefits of significant investment in previous branding will be lost, reducing public awareness.
The Ministry's surveillance programmes
2.5
Surveillance is an essential part of biosecurity. Protecting New Zealand from pests and diseases depends on effective surveillance. The overall purpose of biosecurity surveillance is:
detecting pests or diseases early enough to allow for optimal management to occur, including eradication, and to inform choices about other appropriate management strategies;
providing evidence to support the demonstration of freedom from risk organisms (for example, to facilitate international trade or support pest-free areas within New Zealand);
helping with the detection and monitoring of new and emerging risks and threats to New Zealand; and
describing the distribution and prevalence of pests and diseases already present within New Zealand, and the animals and plants they affect, to inform choices about appropriate actions.
2.6
The Ministry's biosecurity surveillance programmes fall into three main groups:
targeted surveillance – looking for a particular organism. This can include once-only surveys or surveying over several years;
pathway surveillance – targeting high-risk sites, such as airports and ports, checking for the presence of any new pests or diseases; and
passive surveillance – receiving information about pests and diseases from the public (using the 0800 biosecurity telephone number, for example), the scientific community, and industry.
2.7
All surveillance must be co-ordinated to ensure that it is planned and carried out in the most effective way.
The surveillance strategy
2.8
In 2005, the Ministry created the Biosecurity Surveillance Strategy 2020 project. This was to fulfil the needs of a 2002 review of biosecurity surveillance systems (the Prime Review)5 and some of the expectations outlined in the 2003 biosecurity strategy. The objective was to deliver the Biosecurity Surveillance Strategy 2020 (the surveillance strategy) and an implementation plan. The surveillance strategy was endorsed by Cabinet in September 2009. The implementation plan was delivered in draft and needing further work.
The surveillance strategy was too ambitious
2.9
The project to prepare a surveillance strategy was ambitious. It was the first attempt world-wide to write a consistent strategy for developing surveillance programmes covering the marine, animal, plant, and environment sectors. The Ministry resourced the project with staff with limited experience in strategic work. As well as being committed to the surveillance strategy project, these staff also kept their routine workload. The original scoping of the strategy did not properly identify the extent of the consultation required and the complexity of the task.
2.10
Surveillance is heavily dependent on participation from many groups and organisations. Therefore, it was important that improvements focused on the biosecurity system as a whole, not only on activities conducted directly by the Ministry. Preparing the surveillance strategy needed extensive consultation with industry, research and science providers, iwi, and central and regional government.
2.11
The Ministry's report at the end of the project states that the surveillance strategy was delivered nearly two years after the planned completion date of November 2007, which represents a doubling of the original time frame. The total cost for the project was about $160,000 plus 4600 hours of staff time.
2.12
Since 2009, progress on the surveillance strategy's original implementation plan has been poor. Of the 27 workstreams, 20 were supposed to be completed by the second quarter of 2012 and a further four were to have started. By October 2012, only two had finished their work. The Ministry believes that the surveillance strategy is still too ambitious for the resources available, which means that it is unlikely ever to be put into effect as originally planned.
2.13
In our view, the surveillance strategy has failed to achieve its original intentions, was unrealistically ambitious, and paid little attention to the amount of resources likely to be available to implement it. The surveillance strategy, together with the Ministry's 2030 organisational strategy, will now act as a boundary – or vision – within which a more realistic set of surveillance objectives will be prepared.
2.14
The lack of realism in preparing the surveillance strategy means that investing in it has been poor value for money. It also leaves the Ministry in a position where substantial progress is still needed to address the recommendations of the Prime Review and the 2003 biosecurity strategy. The GIA and the increased focus on preparedness will provide opportunities to do some of this, but it is too early to see any results.
2.15
There is a risk that failing to implement the surveillance strategy has damaged the Ministry's reputation among potential surveillance partners (such as local government). Early on in the surveillance strategy project, the Ministry's risk assessment identified that not meeting stakeholders' high expectations of the surveillance strategy was a significant risk to its reputation. Failing to fully put into effect the surveillance strategy is likely to have affected how these stakeholders now view the Ministry.
2.16
Despite the difficult working environment, the surveillance team has made some progress. Since 2009, the surveillance team has carried out several discrete and focused pieces of work that are useful and add to the Ministry's capability. These include:
the enhanced notification project, which aims to improve notifications through the 0800 telephone number;
a method for targeting surveillance sites based on risk;
the biosecurity surveillance atlas; and
the biosecurity surveillance panel for procurement of services.

Although these projects have value, they are not strategic in scope or scale and are unlikely to significantly help to fulfil the surveillance strategy as intended.
Some progress in prioritising surveillance activity
2.17
There are not enough resources to do all that the Ministry's strategies have required. The Ministry told us that it has created a simple way of prioritising biosecurity surveillance that should make decisions more consistent. Work is under way to better target surveillance activity. The Ministry hopes that the GIA will also help with this. The Ministry is also working to agree a list of specific organism priorities across the whole biosecurity team, which should help with prioritising.
New Zealanders need to be kept aware of biosecurity
2.18
The expectations of the 2003 biosecurity strategy, that the public would be aware of and take part in biosecurity, remain relevant. Public vigilance and information from outside the Ministry about pests and diseases help significantly in passive surveillance. High awareness of what to report and how to report are critical to success. The Ministry has little direct control of this, so seeks to influence behaviour by communicating effectively.
2.19
Public awareness of biosecurity needs constant reinforcing. The Ministry recognises the need to improve reporting, not just in the quantity, but also the quality of reports. It has carried out research to better target effort to improve notifications, and is preparing improvement plans, such as the enhanced notifications project.
2.20
One way that the Ministry has raised awareness in the past is through dedicated biosecurity branding, which it introduced in 2004. The original objective was to present a co-ordinated visual identity to grab the public's attention and highlight the fact that all New Zealanders need to be vigilant in their efforts to protect biosecurity.
2.21
The main benefit of using a brand is the awareness it generates in the minds of the target audience. The private sector is adept at branding, and building a brand is regarded as a long-term investment. Significant investment has been made into the biosecurity brand over many years. For example, during the didymo response, the Ministry invested more than $2 million in the "Check, Clean, Dry" campaign and research shows that public awareness of this is high. This represents only one part of the total past investment in the "Biosecurity New Zealand" brand.
2.22
Biosecurity New Zealand no longer exists as an entity, but we consider that there is more to be gained from modifying and integrating the old brand (or its essence) into something appropriate for the new Ministry rather than discarding it. Some response partners agree.
2.23
At a time when public engagement needs constant reinforcing, a complete change of brand will mean that the benefit of much of the previous investment will be lost. For public-facing biosecurity activities, retaining the basic elements of the old brand (colour scheme and the word "biosecurity"), while incorporating it into something more appropriate to the new Ministry's aspirations, would enable the Ministry to take advantage of the previous investment.
Measuring the effect of surveillance could be improved
2.24
There is no cost-benefit analysis of surveillance programmes. The Ministry recognises the value of cost-benefit analysis, but reports that it finds this challenging. Investing in long-term surveillance programmes for potential incursions may be difficult to justify when there are no detections. For example, the Queensland fruit fly surveillance programme costs about $1 million a year. Between 1996 and 2012, there were no detections and there had been no incursions. The ability to detect one male fruit fly in May 2012 demonstrated that the investment in the surveillance programme was worthwhile because it enabled a rapid and effective response. This allowed New Zealand to maintain its status of being free of Queensland fruit fly .
2.25
Like insurance, evaluating the cost-benefit of surveillance can be difficult until it finds something, because it relies on projecting potential harm and calculating the costs and benefits. But, without robust cost-benefit analysis, there is a risk that surveillance is not given proper priority.
2.26
The Ministry reports that it has struggled to come up with good outcome-based measures and claims that surveillance is a technically difficult area to prepare outcome-based measures for. However, this is not a valid reason for not attempting it.
2.27
In 2002, the Prime Review reported that it:
... was not able, during its interview programme, to identify many performance indicators that are applied to measuring the effectiveness of surveillance objectives ... in our view this is a significant deficiency in biosecurity surveillance; it is essential that, as far as possible, output KPIs [key performance indicators] be set for critical objectives and it is desirable to have them for the total programme.
2.28
The Ministry's current performance measures reflect what can be measured easily. At present, the Ministry measures success on the achievement of survey objectives. These simple measures include budget achievement, timely reporting, and delivery of innovative practice. The absence of more meaningful performance measurement tools means that the Ministry will find it difficult to determine the effectiveness and efficiency of its surveillance programmes.
Progress on surveillance
2.29
The Ministry recognises that it needs to improve surveillance and has made some progress.
Joint working on surveillance with external parties is good
2.30
The Ministry has demonstrated that it can work well with external parties in surveillance. For example, the Ministry helped to design the New Zealand Forestry Owners' Association's surveillance system. The Ministry also collaborates and shares information with others about high-risk surveillance sites. There are other examples of joint surveillance with industry, such as work on avian influenza and on detecting brain and nervous system diseases known as transmissible spongiform encephalopathies (TSEs). Joint working and collaboration provides a wider knowledge base, which allows interested parties to contribute to biosecurity.
Surveillance procurement has improved
2.31
The Ministry has set up a surveillance panel, increasing understanding of the surveillance market's capability. All surveillance work is now dealt with through the biosecurity surveillance panel, which has streamlined the tender process. Another aim is to provide contractors with longer contracts and more security, to promote innovation. Some contractors are now working jointly, which is good for building capability. The surveillance panel includes some Ministry scientific staff, so this is also an opportunity for greater interaction and communication. The surveillance panel is an opportunity to produce benefits for the Ministry.
---
4: See paragraph 3.50 onwards for our views on capability.
5: Prime Consulting International Limited (2002), Review of New Zealand's biosecurity surveillance systems, Waikanae.
page top