Part 3: Organisational health and capability
Annual Report 2012/13.
We place high importance on having a strong foundation of skilled people working together in a well-run organisation.
Our people
We have about 370 employees in two business units – the Office of the Auditor-General (OAG) and Audit New Zealand – supported by a shared corporate services function, and auditors contracted from about 50 private sector accounting firms.
We are committed to an organisational culture where our people are supported and have the capability and opportunity to do their best work. We take joint responsibility with our people for building capability and strengthening their contribution to the Office and to the public sector. The Office seeks to provide our people with a supportive and rewarding place to work.
Equal employment opportunities
We aim to attract and appoint people who have the appropriate skills, values, and attributes to meet the Office's needs and strategic direction. We recruit in a manner that supports the principles and practice of equal employment opportunities that are embedded in our Good Employer Provisions Policy.
Details about staff numbers and staff diversity between 2011 and 2013 are available on our website. We monitor our recruitment and employment decisions and practices. Our managers are made aware of, and given support to fulfil, our good employer obligations, through specific programmes, courses, and one-on-one coaching.
Building our staff capability
We focus on improving every staff member's skills, as identified in our competency frameworks. We continue our focus on our leadership development programmes, and on improving our staff's engagement (as measured by our annual staff engagement survey). Our staff engagement scores across the organisation increased from 3.84 in 2011/12 to 3.92 in 2012/13.
Our audit staff have consistently performed well in the New Zealand Institute of Chartered Accountants accreditation examinations. In 2012/13, we achieved a 100% pass rate, continuing an improving trend since 2009/10.
Information systems
Our work is information intensive, and we rely on information systems to support this work. Our audit teams in the field use specialist auditing software (TeamMate) and remote access tools. In 2012/13, a significant upgrade to the auditing software was successfully completed, improving functionality and helping auditors to increase the audit's effectiveness and efficiency.
We recognise the significance of the information and insights that the Auditor-General, her staff, and Appointed Auditors gather as they work, and we are committed to using this to help improve the public sector's performance. We put the first phase of an Enterprise Content Management system called the Source into effect in 2012/13, to allow the collection, storage, analysis, sharing, reuse, and reporting of information. We are well advanced in preparing the second phase of our new system and expect to put this into effect early in 2013/14.
We also completed a significant upgrade of our end-user desktop environment in 2012/13.
Facilities
This year, we completed our long-term property projects in Wellington and Auckland, and have made good progress on a long-term solution for our Christchurch staff.
Our Auckland Audit New Zealand staff moved to refurbished premises early in 2012/13. Our Audit New Zealand, OAG, and Corporate Services staff in Wellington now work under one roof at newly refurbished premises at 100 Molesworth Street. In Christchurch, we are planning to relocate to a new building in the outskirts of the central business district towards the end of 2013.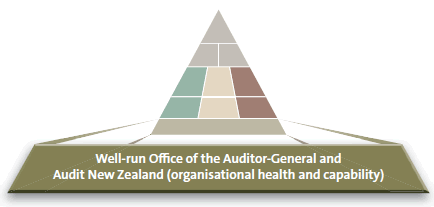 2012/13 results and previous performance for organisational health and capability
MEASURE
RESULT
COMMENT
Staff are engaged and satisfied
Improve (or at least maintain) the engagement and satisfaction of our staff measured against the previous two years.
Achieved
The Office's staff engagement survey is based on responses to statements on a 5-point scale, with "1" being the lowest score and "5" being the highest.

Our survey results show increases in both overall engagement (3.92) and satisfaction (3.79) when measured against the previous two years. OAG results for engagement (4.16) and satisfaction (4.03) were particularly encouraging.
Figure 16
Overall staff engagement and satisfaction scores, 2008/09 to 2012/13

Improve (or at least maintain) the average years of experience of our staff measured against the previous two years.
Partly achieved
Achieved for Audit New Zealand (5.6 years) and Corporate Services (4.8 years). Not achieved for the OAG (6.9 years).
Figure 17 Average number of years staff have been employed by the Office, 2008/09 to 2012/13

Staff turnover
No target set
Overall, we are comfortable with a turnover of up to 20%, but would prefer no more than 15%. This year's turnover was 17.4%, a small reduction on the 19% in 2011/12.
Audit staff have high levels of expertise
MEASURE
RESULT
COMMENT
Achieve a pass rate of staff undertaking accreditation examinations of not less than 95%.
Achieved
We achieved a 100% pass rate in 2012/13 and have consistently achieved above 95% since 2009/10.
Client survey feedback shows that our audit staff's knowledge of entities' business and operating context is improving, and that our auditors are investing in work to understand that context. Our clients give us improved (or at least maintained) ratings (on a scale of 0 to 10) compared with the previous two years for their auditors':


understanding of the client's business and the risks the client faces;
general skills and knowledge required to conduct their audit; and
provision of information to help clients identify and promote improvement in their operations.

Not achieved
Compared to 2011/12, our clients' ratings improved, but were not as good as in 2010/11:


Ability to understand the business and risks 7.5 (2011/12 – 7.3, 2010/11 – 7.6);
General skills and knowledge 7.4 (2011/12 – 7.2, 2010/11 – 7.5); and
Information to improve 6.5 (2011/12 – 6.4, 2010/11 – 6.6).
Audit staff have high levels of expertise: Auditing performance information
MEASURE
RESULT
COMMENT
Our quality assurance reviews of our audit and assurance work confirms that auditors are carrying out the requirements of AG-4 (Revised).

AG-4 (Revised) is the Auditor-General's revised auditing standard on auditing non-financial performance information.
Achieved
Quality assurance reviews of our audit and assurance work found auditors are generally meeting the requirements of AG-4 (Revised). The reviews made recommendations about audit procedures in relation to assessing the achievement of outcomes, and these will be addressed in the next audits.
page top