Part 6: The Major Events Fund
New Zealand Trade and Enterprise: Administration of grant programmes.
Introduction
6.1
NZTE supports major events through the Major Events Fund in order to provide a platform for targeted industry sectors to market, raise public awareness, and network with customers and other sectors, in support of the Government's interests in economic, regional and industry development. Major events include festivals, sports tournaments, conventions, exhibitions and conferences.
6.2
The Major Events Fund was established in 2000, and, before the merger to form NZTE, was administered by Industry New Zealand. For the 2003-04 year, $1.125 million was allocated to the Major Events Fund. Figure 12 below sets out a yearly breakdown of applications under the Fund.
Figure 12
Applications to the Major Events Fund since 2000-01


Number
Total ($)
Approved
Declined
Cancelled
Approved
Paid
2000-01
6
0
0
552,371
549,371
2001-02
16
14
3
886,487
885,211
2002-03
18
47
21
1,004,654
865,709
1 July 2003 to March 2004*
0
3
1
0
0
Totals
40
64
25
2,443,512
2,300,291
* As at 31 March 2004, no Major Events Fund applications had been approved for the 2003-04 financial year. This is because it was only in May 2004 that the Major Events Team assessed all applications they had received throughout the financial year to determine which events to support. At that time, the Major Events Team assessed 45 applications and 8 events were supported. We did not examine the grants for those events as they were outside the timeframe of our audit.
6.3
The approved applications ranged in value from $2,621 to $218,000 with an average of $61,087.84. NZTE was able to provide us with satisfactory data on all events that had been approved, declined, or cancelled, from the start of the Fund in November 2000 through to 31 March 2004.
6.4
We examined 22 approved applications, the 5 most recently cancelled grants to find out why they had been cancelled, and the 10 most recently declined applications to find out why they had been declined.
6.5
All the applications we examined were approved before NZTE was formed. However, the merger did not result in any changes to the systems and processes used to administer the Major Events Fund.
6.6
This Part focuses on the approved applications. No issues were raised by any of the declined or cancelled grants.
Criteria for the award of Major Events Fund grants
6.7
Applicants must provide NZTE with a proposal that states:
how the sponsorship would support NZTE's objectives, and in particular, NZTE's focus on sector and regional economic development in New Zealand;
how the event would directly contribute to helping improve New Zealand businesses' international competitiveness, profitability and/or capability; and
how NZTE can take advantage of its sponsorship and/or how the event supports NZTE's Brand New Zealand programme.
6.8
The proposal also needs to include information on:
the background to the event, including the event's track record and return on investment;
details of the event;
the event organiser and their skills;
the target audience for the event;
how the event will be promoted;
the other business or media partners or other sponsors involved with the event;
a properly scoped budget; and
what is being sought from NZTE.
6.9
If a proposal does not include the necessary information, then NZTE liaises with the event organiser until the required information is provided or the application is withdrawn.
What can Major Events Fund grants be used for?
6.10
Under the Cabinet criteria, events that are eligible for support under the Major Events Fund are events that:
present major untapped commercial opportunities for an industry sector or sectors;
create added value in line with the Government's commitment to economic development – that is, lead to net national benefit rather than transferring benefits between regions and/or displacing or crowding out existing economic activity;
have major national significance – this can apply to regional events which have some capacity to add value nationally;
have significant media value;
require a supportive rather than a lead agency role from Government;
can be subject to evaluation criteria such as return on investment, measures of direct job creation, sales or exports, and numbers of people attending;
are consistent with government strategies, policy objectives and priorities; and
are consistent with New Zealand laws and regulations.
6.11
NZTE can fund only up to 50% of qualifying projects, up to a maximum of $250,000 for each project, and can provide only a support rather than a lead agency role.
Were the criteria met?
6.12
In the sample of grants we examined, the criteria were met. However, we were concerned by the possible lack of consistency in the application of criteria.
The application process
6.13
NZTE's Major Events Team is responsible for processing applications to the Major Events Fund. The Team receives proposals in a variety of ways, including through web-based application forms, via NZTE Client Managers, and through the post. After an application is received, the Team undertakes an initial assessment to check whether the applicant has provided all the necessary information.
6.14
Once an application has been accepted, an assessment matrix using weighted criteria is completed. Criteria have been divided into 3 categories with "very important" criteria having a much higher weighting than "less important" criteria. Applications receive a score, and events that score 75% or greater are recommended for approval. Figure 13 on the next page sets out the approval process.
6.15
After funding is approved, and the grant recipient signs the sponsorship agreement, they can send an invoice to NZTE for the agreed amount. In practice, this can occur one or 2 years in advance of the event, so that promotional activities can take place.
Guidelines
6.16
NZTE has developed an Events Group Procedures Manual that sets out:
the process for receipt of applications;
how applications are to be evaluated;
processes for approving or declining applications; and
the roles of NZTE staff in the assessment of Major Events Fund applications.
6.17
NZTE has also developed an Events Group Process Manual, which contains the assessment matrix to assess all applications for funding. As the Fund is oversubscribed, applications are required to meet a minimum score of 75%.
Figure 13
Approval process for Major Events Fund Grants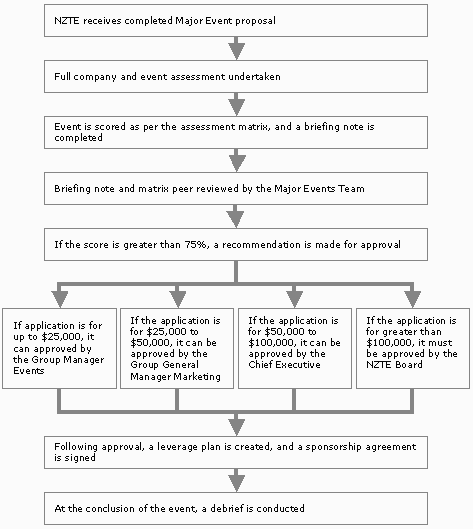 6.18
The matrix is based on the Cabinet criteria. However, there is no explanation of how each element of the matrix is to be assessed. For example, an assessment criterion under the matrix is whether the event will "offer significant leveraging opportunities", for which a score out of 15 must be assigned. However, the guidelines do not set out how the score for each element should be determined.
Recommendation 27
We recommend that NZTE develop comprehensive guidance for how each criterion is to be assessed under the Major Events Fund.
Documentation
6.19
Only 15 out of 22 files for approved applications contained copies of the credit check, briefing notes and assessment matrix, and the signed contract. Of those 15 files, 13 did not have an advantage plan or post event report.
6.20
The NZTE Major Events Fund guidelines have not been consistently applied. This is partly because the guidelines have evolved over the life cycle of the Major Events Fund. For example, credit checks were not required in the earlier applications, and successful applicants were not required to sign a contract.
6.21
In 2003, the Events Group Manager undertook an internal review of the documentation in all Major Events Fund files. In line with our findings, this review indicated that various pieces of key documentation, such as the briefing notes and assessment matrices, credit checks, or the sponsorship agreements, were missing from some files.
6.22
The recently updated Events Group Procedures Manual identifies the documents that should be kept in the paper file. Further, all files are to have an Events Group File Checklist at the front, updated by the Client Manager.
NZTE's approach to risk for the Major Events Fund
6.23
Two criteria in the assessment matrix, that make up 12% of the overall score, require NZTE to consider whether the applicant:
has, or has the potential to develop, sound management and organisational capability; and
is able to deliver on estimated outputs, such as numbers of participants and supporters.
6.24
The guidelines also require a credit check to be performed on every applicant.
6.25
Aside from the 2 criteria noted above and the credit check, there is no requirement for a comprehensive risk profile of the applicant to be completed. This is particularly important, because NZTE can pay applicants up to 2 years in advance of the event occurring (to enable venues to be booked, and contacts with international media to be established).
Recommendation 28
We recommend that NZTE develop comprehensive guidance setting out how the risk profile of applicants for grants under the Major Events Fund is determined. This is particularly important given the advance payment of funding.
Were NZTE's assessment procedures satisfactory?
6.26
NZTE's assessment procedures under the Major Events Fund were satisfactory. Applications were assessed against the criteria set out in the assessment matrix. Once an assessment had taken place, a briefing note was prepared that included the event's background, a copy of the assessment matrix, and a recommendation indicating whether the application should be approved or declined. This was submitted to the appropriate authority for approval. In all the files we examined, the appropriate approval process had been followed.
6.27
However, because of the lack of definition around how to interpret and score each element of the assessment matrix, there could be inconsistency in how scores are awarded.
Recommendation 29
We recommend that NZTE ensure that the assessment matrix is consistently applied for all applications under the Major Events Fund, and that guidance is developed to ensure consistence in scoring.
6.28
Using the assessment matrix, all applications were assessed against the required criteria. However, it is possible for an applicant to receive a score in any one criterion that is so low that, in effect, the criterion is not met. An application that achieves a low score for some criteria can still be approved.
Monitoring of Major Events Fund grants
6.29
The standard sponsorship agreement requires the event organiser to:
provide NZTE with a copy of any financial statement, report or newsletter produced about the performance of the organiser or the event as soon as possible after the time of its production and before its publication or disclosure to any third parties;
attend an initial debriefing session at a time convenient to both parties; and
within 30 business days of the conclusion of the event, provide NZTE with a written analysis of the success of the event containing such information as NZTE reasonably requires.
6.30
The Major Events Team remains in contact with event organisers throughout the period leading up to the event, and during the event. More recently, advantage plans have been developed for each event, setting out the activities NZTE will undertake to ensure that it can take best advantage of the event.
6.31
Appropriate payment controls had been exercised over the grants we examined. Claims for payment were checked and approved by the Major Events Team, and were sent to NZTE's finance team in Wellington for payment. We saw no evidence of grant payments that were incorrectly made.
6.32
However, at the time of our audit, NZTE did not require recipients of grants from the Major Events Fund to complete a standard form upon completion of the event. NZTE is preparing guidelines for the event debrief report required of grant recipients.
6.33
Of the 22 approved grants we looked at, 3 had some form of post-event report provided by the applicant on file. There were indications on 3 of the other files that a post-event meeting had occurred, but notes from the meeting were on file in only one of those cases.
6.34
The 3 reports that were provided were not in a uniform format; nor did they provide standard information about the success of the event or the estimated return on investment.
6.35
We saw no evidence that outstanding reports were followed up by the Major Events Team. In our view, some means should be available to compel post-event reporting by grant recipients.
Recommendation 30
We recommend that NZTE require all grant recipients to provide reports on the outcome of the Major Event funded. Standard information should be required, to provide appropriate data for monitoring and evaluation of the Major Events Fund.
Recommendation 31
We recommend that NZTE determine appropriate sanctions for Major Events Fund grant recipients who do not provide NZTE with the required final report at the conclusion of a major event.
page top