Part 1: Introduction
Managing Threats to Domestic Security.
What Is Domestic Security?
1.1
We have defined 'domestic security' as "preventing or defending against threats that are unconventional in approach (i.e. not by traditional military means) and are directed towards the interior of a state rather than its external forces." This definition is consistent with that adopted in the United States of America (USA) and elsewhere, and is commonly known as 'homeland security'.
1.2
Threats to domestic security include threats from terrorism (including agri-terrrorism and bio-terrorism), a cyber attack on major information or business systems, and attacks against critical physical infrastructure (such as the public water supply). Threats to domestic security are all crimes or the result of criminal actions.
1.3
Domestic security can also be affected by other major international events, which, while not necessarily criminal, are likely to threaten the country's economic and social well-being. Such events might include an outbreak of foot and mouth disease, the introduction of pests and diseases that will affect primary industry, or an outbreak of an infectious disease – the Severe Acute Respiratory Syndrome (SARS) virus was a recent example.
1.4
Our definition of domestic security in paragraph 1.1 excludes the majority of defence and foreign policy actions. We did not examine the impact that maintaining a specific defence or foreign policy has upon domestic security. However, we did examine those elements of the NZDF and MFAT that have a domestic security focus. For example, the NZDF's Counter Terrorist Group (part of the Special Air Service) plays a contingency role in domestic security arrangements in support of the Police, once authorised.
1.5
Our audit did not look at civil emergencies and disasters, such as flooding, earthquakes, or industrial action. However, as the mechanisms used to respond to these events can be used for domestic security incidents, we did examine certain aspects of the agencies with civil emergency roles.
1.6
The scope of our examination is illustrated in Figure 1 on the next page.
Figure 1
The Security Spectrum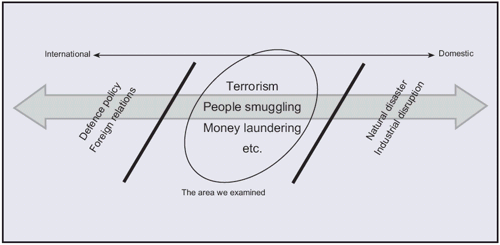 Why Domestic Security?
1.7
Since the attacks on 11 September 2001, the world has become more aware of the risks to domestic security – especially the risk of terrorist attacks designed to cause mass casualties. The bombings in Bali in October 2002 further confirmed that the security environment had changed, and that countries needed to adapt to meet new security challenges.
1.8
New Zealand is not immune to these changes. It is important – for the country's own protection and well-being, and to meet international obligations – that New Zealand adapts to meet the new security environment in the most effective way possible. Unless security measures keep pace with those being adopted elsewhere, New Zealand risks attracting terrorist attention, and could unwittingly provide a 'safe haven' for terrorists and terrorist activities.
1.9
In this audit, we set out to provide assurance to Parliament and the public that threats to domestic security are being adequately managed. Our unique mandate as auditor of the public sector enabled us to examine the wide range of arrangements in place to identify and respond to domestic security threats.3 In particular, we looked at whether:
There was an adequate framework to guide domestic security efforts;
the collection and dissemination of relevant intelligence was well co-ordinated and the intelligence collected was sufficient to address the risks, goals, and objectives identified;
the preparedness and capability of the various agencies to respond to threats to domestic security was being monitored; and
there were effective arrangements for monitoring and evaluating the allocation of resources used to achieve domestic security goals.
What Did We Do?
1.10
Our approach to the audit was to:
first identify best-practice principles for managing threats to domestic security; and
then compare what was actually happening against those principles.
How Did We Identify Best-practice Principles?
1.11
We talked to a variety of New Zealand experts about national security issues to gain an appreciation of the issues affecting domestic security and the current environment. We also made a preliminary visit to the entities that we identified as having a key role in domestic security to establish what their roles were and what they considered the key issues to be.
1.12
We then established a set of expectations so that we could assess how New Zealand was responding to the issues identified. These expectations related to:
the overall security framework;
the co-ordination of intelligence flows;
assessing how well entities are prepared to prevent a domestic security incident from happening on a day-to-day basis;
the entities' ability to respond should an incident occur; and
how well entities are able to recover from an incident.
1.13
Having established our expectations, we visited our USA counterpart (the General Accounting Office) and reviewed the work that it had carried out on this subject over the last six years.4 We also visited and reviewed the work undertaken by the Australian National Audit Office. In both cases, we tested with them the soundness of our expectations to ensure that they represented what would be considered best practice.
1.14
We also talked with a variety of academics, and attended a conference on Australian Homeland Security in Canberra. We visited think-tanks and academics in Washington D.C., and, while in Canberra, we talked to a number of academics who specialise in the field of security. The main purpose of these visits was to test our expectations as well as gauge how other countries were reacting to the new and emerging security threats – including the public policy implications.
1.15
While in Washington and Canberra, we talked to several government agencies involved in domestic security to establish how they perform their threat assessments and establish and measure their capability levels.
What Field Work Did We Do?
1.16
We obtained and reviewed relevant Cabinet papers to establish the Government's overall response and the advice that it was given in relation to the changing security environment.
1.17
We reviewed relevant legislation – in particular, the legislation that has recently been enacted or is expected soon to be enacted – to ensure that New Zealand incorporates new international requirements into its domestic law. A list of the legislation is given in Appendix 3 on page 90.
1.18
We interviewed staff from 18 New Zealand agencies.5 In the majority of cases, we conducted several interviews with various staff members from throughout the agency. We reviewed relevant documents – including strategies, policy and procedure manuals, and monitoring reports.
1.19
We observed Customs officers, Immigration Service officers and aviation security staff going about their day-to-day duties, and we talked with them about:
the current environment and emerging issues;
training and assessment programmes; and
how they co-ordinate their activities with other agencies and professional bodies.
1.20
We also observed the procedures in the mail collection area at the Auckland International Mail Centre, and observed drug and explosive detector dogs at work.
1.21
We visited the Parliament Buildings Executive Wing ("the Beehive") basement where the new National Crisis Management Centre is being established.
Audit Personnel Security
1.22
Our staff obtained the necessary security clearances, and were given briefings, to ensure that they were able to cover all of the New Zealand agencies in sufficient depth and were able to read all relevant documentation.
---
3: In particular, section 16(1)(a) of the Public Audit Act 2001, which says that –
The Auditor-General may at any time examine:

The extent to which a public entity is carrying out its activities effectively and efficiently;
Section 16(2) says such an examination may relate to 1 or more public entities.
4: The reports of the General Accounting Office can be accessed at www.gao.gov. There are special sections devoted to homeland security and counter-terrorism.
5: These agencies were: The Department of the Prime Minister and Cabinet, the Security Intelligence Service, the Government Communications Security Bureau, the Customs Service, the Police, the Immigration Service, the New Zealand Defence Force, the Ministry of Agriculture and Forestry, the Ministry of Fisheries, the Ministry of Foreign Affairs and Trade, the Civil Aviation Authority, the Aviation Security Service, the Maritime Safety Authority, the Ministry of Health, the Ministry of Civil Defence and Emergency Management, the Ministry of Transport, the National Maritime Co-ordination Centre, and the Treasury.
page top